The hottest trend in all of pharmaceuticals right now is to use the body's immune system to fight cancer.

But the first wave of innovation in this field skipped past Eli Lilly and Co., because the company was focused in other areas.

So now the Indianapolis-based drugmaker is trying to catch what it hopes will be a second or third wave of therapies in the field known as immuno-oncology. For two years, Lilly has been building a team of immuno-oncology researchers in New York City and has struck a series of deals with other drug companies.

Lechleiter
"We're catching up to the extent that we're not competitive with the first-generation drugs," said Lilly CEO John Lechleiter, referring to drugs known as PD1 checkpoint inhibitors, such as Merck's Keytruda and Bristol-Myers Squibb's Opdivo, which were launched last year.

"But we believe that immuno-oncology is going to be multifaceted," Lechleiter added. "I think there's going to be other approaches, under the broad umbrella of immuno-oncology, that we can and should consider. If we're not there at the dawn of this era, we want to be there at the next generation, if we can."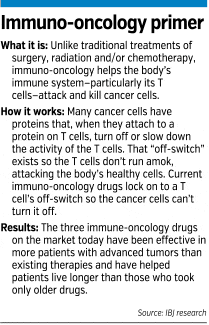 Wall Street analysts are projecting $35 billion in annual worldwide sales for immuno-oncology drugs a decade from now. If that pans out, the class of medicines would account for half of all spending on cancer drugs, according to market research firm IMS Health. It would mean more money spent on immuno-oncology than on all cholesterol-lowering drugs, such as Lipitor, and nearly as much as is spent on all mental health drugs, such as Prozac and Cymbalta.

"Immuno-oncology is blotting out the sun," joked John Herrmann, an oncology expert at Catenion, a Germany-based consulting firm that helps pharmaceutical companies with research and development. Until March, Herrmann was Lilly's chief science officer for external research and development partnerships in oncology.

Indeed, venture capitalists poured more than $1 billion last year into immunotherapy companies—more than double the amount invested in such companies in 2013 and nearly 10 times as much as a decade ago, according to data from Pitch Book.

In addition, major drug companies have been spending huge amounts on immuno-oncology. Tony Butler, a pharmaceutical analyst at New York-based Guggenheim Securities, noted that New Jersey-based Merck, New York-based Bristol-Myers and Switzerland-based Roche are all spending $1 billion a year on immuno-oncology research, while London-based AstraZeneca plc is approaching that figure. And New York-based Pfizer Inc. struck a $2.85 billion deal late last year to gain access to a PD1 checkpoint inhibitor—which will be the fifth such drug to market.

"I'm not sure we've ever seen that funnel of capital," said Butler, who has restructured his research work to focus entirely on immuno-oncology. "It's never been done before."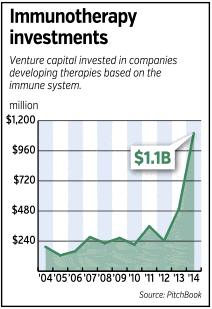 Lilly officials declined to say exactly how much of their $4.7 billion in annual R&D spending is going toward immuno-oncology, but the company has made significant announcements.

In early 2014, Lilly formed a partnership with Canada-based Zymeworks, without disclosing terms, and later that year expanded it by $375 million.

In the first half of 2014, Lilly signed a $45 million drug-development agreement with United Kingdom-based Immunocore Ltd., and this year contributed to a $320 million fundraising round by Immunocore—the largest ever by a European drug company.

In May, Lilly agreed to pay at least $60 million to Germany-based BioNTech to develop immuno-oncology drugs. It also promised $300 million for each drug that advances through key development milestones, as well as sales royalties for drugs that hit the market.

On top of those deals, Lilly is trying to see if its existing and experimental cancer drugs help make immuno-oncology drugs more effective. It has signed these combination-therapy deals with Bristol-Myers, Merck and AstraZeneca.

Lilly also has had a team of researchers in Indianapolis working more than 13 years on drugs that would target a protein called TGF beta in advanced cancers. One, known as galunisertib, is in a Phase 2 clinical trial, the latest stage of any of Lilly's immuno-oncology drugs.

Gaynor
"This is one of the most exciting times to be in oncology," said Dr. Richard Gaynor, senior vice president of product development and medical affairs in Lilly's oncology division. "If it's a mile race," he added, "we're at most at the 100- or 200-yard mark."

'Transformational shift'

Why are investors so excited?

First, because patients helped by immuno-oncology drugs are staying cancer-free much longer than has been typical with chemotherapy drugs.

Merck's drug Keytruda, for example, reported that—among patients with advanced melanoma that was no longer responding to other drugs—two-thirds survived at least one year after receiving the drug and half survived two years.

Second, when immuno-oncology drugs were combined with other cancer drugs, the percentage of patients who benefited went up dramatically.

Bristol-Myers released results this spring of a large test of its two immuno-oncology drugs—Yervoy and Opdivo. Yervoy by itself helped patients with melanoma go progression-free for an average of three months. But the two drugs combined pushed progression-free survival to nearly a year.

"I think what you see here is a transformational shift," AstraZeneca CEO Pascal Soriot told scientists at this year's meeting of the American Society of Clinical Oncology, according to the Financial Times. "You just need to look at the data that was presented. What you see is absolutely mind-boggling."

Third, scientists think immuno-oncology drugs can work against a far broader range of tumors than most cancer drugs have. For example, Merck is testing Keytruda in 13 tumor types.

And fourth, at least for now, immuno-oncology drugs are selling for sky-high prices. Yervoy, the first immuno-oncology drug on the market, costs more than $158,000 for a typical course of treatment. And Opdivo costs more than $100,000. When they were studied together, the two drugs cost nearly $260,000 per patient for a course of treatment.

Almost no one thinks those prices will be sustainable as more immuno-oncology drugs come to market. But for now, the companies in this market are reaping huge gains.

Scientific odyssey

Efforts to use the immune system to attack cancer go back at least a century, to New York bone surgeon William Coley, who infected cancer patients with bacteria to stimulate their immune system against cancer.

After all, the body's immune system is better than almost any drug at precisely identifying foreign substances and attacking them, said Michael Kalos, whom Lilly hired away two years ago from the University of Pennsylvania—one of the nation's hotbeds of immunotherapy research—to build up its immuno-oncology team in New York.

But these treatments rarely worked against cancerous cells, and until recently scientists didn't have enough understanding of the complex immune system to know why.

"The immune system is an incredibly potent and specific mechanism," Kalos said. "But because it's so powerful, there are incredibly strong mechanisms to keep it from doing harm."

It was not until the late 1990s that Jim Allison, an immunologist at the University of Texas and the MD Anderson Cancer Center, discovered that a key molecule in the immune system actually turned off or put brakes on the body's T cells—which seek out and destroy foreign cells.

The T cells have that restraint so they don't get out of control and attack the body's own, healthy cells. Some cancer tumor cells have a protein on their surfaces, called PD-L1, that attaches to a T cell, telling the T cells that the cancer cells are off limits for attack.

Drugs like Keytruda and Opdivo attach themselves to this on/off switch on the T cells—which is known as the PD1 checkpoint—so the PD-L1 protein cannot attach to the PD1 checkpoint, and the "turn off" message never gets delivered.

But Opdivo and Keytruda, by themselves, have been effective in only 20 percent to 30 percent of patients. They tend to work best in patients whose cancer cells have multiple mutations.

That's why scientists predict lots of possibilities for pairing up immuno-oncology drugs with one another or with traditional cancer drugs. They think the most effective therapies will do three things at once: stop cancer cells from turning off T cells, stimulate T cells and other parts of the immune system to work better, and kill cancer cells.

"The field has a long way to go," said Herrmann, the cancer research consultant. "We've just touched the tip of the iceberg."•