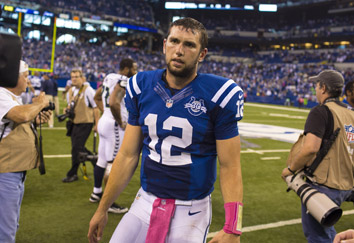 Indianapolis Colts General Manager Ryan Grigson and Head Coach Chuck Pagano spent last week trying to dispel the notion there was internal friction.
Team owner Jim Irsay added his voice to the chorus Sunday afternoon.
Their words haven't convinced everyone yet. After a poor performance Sunday at Buffalo, the speculation about whether this potential distraction could derail one of this season's American Football Conference favorites ramped up—even as the Colts attempt to steer the discussion in another direction.
"If you want to ask me questions about yesterday's ballgame, I'll be glad to talk you," the coach said Monday. "I'm not going to talk about something that's irrelevant."
Clearly, things have not gone according to plan—on or off the field.
The Bills pulled a page right out of Bill Belichick's playbook Sunday by gashing the Colts' suspect run defense, jumping to a big lead early and forcing Andrew Luck into more throws than the game plan called for. The resulting miscues and 27-14 loss were a stark reminder of what happened last season against the Patriots, twice.
It could have been worse. Pro Bowl receiver T.Y. Hilton and starting running back Frank Gore left early with injuries. Pagano said Monday that Gore, who had cramps in his calf, was "fine" and that an MRI on Hilton's left knee showed no structural damage.
Hilton said the swelling had somewhat subsided overnight. He has not been ruled out of next Monday night's game against the New York Jets (1-0).
"Yesterday, it was just numb and it blew up on me real fast," Hilton said. "It feels all right now."
The question, of course, is whether the Colts (0-1) will be OK moving forward.
Buffalo took advantage of Indy's revamped offensive line, exposed a defense that was starting two rookies on the defensive line and handed Andrew Luck his third opening-day loss in four seasons.
Whatever the problems on the field, though, the ones off of it could prove more problematic.
The conversation has increasingly turned to Pagano's future in Indy as he begins the final year of his original contract.
In late March, Pagano emailed a statement to a small group of local reporters and said "I look forward to coaching the Colts this season and for many years to come."
A month later, Irsay acknowledged the two sides had discussed an extension but could not come to an agreement.
So when word about a potential problem started to leak last week, Grigson and Pagano addressed the rumors together.
"He (Irsay) said that it's hard enough to win in this league when everyone is getting along, you've got no shot if you're not," Grigson said, describing one of the two quotes on his office desk. "So it makes no sense for us going in opposite directions and that's not the case, trust me."
Pagano's explanation was only slightly different.
"We're linked at the hip," he said. "Do we agree to disagree? Absolutely. Is there going to be some fireworks at times? Absolutely. Every single room I've been in as a defensive coach for 28 years, whether it was a coordinator or position coach, offensively, there are going to be some fireworks in those rooms. But at the end of the day, the only thing that matters is that we come out of it and do what is best for the 'shoe and what is best for the team."
When another report surfaces Sunday, Irsay jumped in.
"That couldn't be farther from the truth," the team owner said. "They have a great relationship. I've seen coaches and general managers work together since I was 11 years old. I know the dynamic that needs to be there for them to work together. They have a great relationship, and that report is completely false."
But the easiest way to change the story line is fix the mistakes and start winning.
"A lot of things to clean up," Pagano said. "Thank God it was Week 1 and not Week 15."
Please enable JavaScript to view this content.