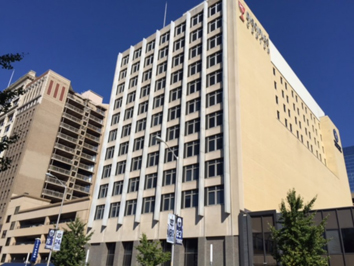 A Minneapolis-based firm has purchased a downtown building on East Washington Street for $9.25 million and plans to spend millions more to renovate the historic structure.
Onward Investors LLC bought the 12-story building at 130 E. Washington St. from local owner Perennial Washington St. LLC, according to Summit Realty Group, which represented the seller in the transaction.
The 203,250-square-foot building is roughly 55-percent occupied. Tenants include engineering firm Arcadis and the national governing bodies of USA Track and Field, Diving, Gymnastics and Synchronized Swimming.
The building for years was known as the Disciples Center in deference to its largest tenant, the Christian Church-Disciples of Christ. The organization moved its 195-person headquarters last summer to the Landmark Center, where it occupies 60,000 square feet.
Local architectural firm Vonnegut and Bohn developed the building in 1922 for Meyer Kiser Bank. Since the closing of the bank in 1931, it has housed several of Indiana's most prominent companies, including Farm Bureau Insurance. The company owned the building from 1960 to 2006.
In 1967, Farm Bureau built an addition to the original building and added the mid-century modern façade.
Onward Investors has hired Indianapolis-based Ratio Architects Inc. to draw up renovation plans, said Rich Forslund, an office broker at Summit Realty.
One of the bigger exterior projects will be restoring the original, larger window openings that were partially closed off years ago, Forslund said.
"We're going to open those back up, and that will be huge for the building," he said. "There will be unbelievable natural light coming into the building.
Forslund, who is representing the owner, said Onward Investors is hoping to attract a restaurant to the ground level and also will make improvements to the lobby area and open up the ceilings in certain areas.
The aim is to attract younger, progressive-type companies searching for historic space, he said.
Roughly 65,000 square feet of contiguous space is available on the top four floors, with 16,500-square-foot floor plates.
 
 
Please enable JavaScript to view this content.