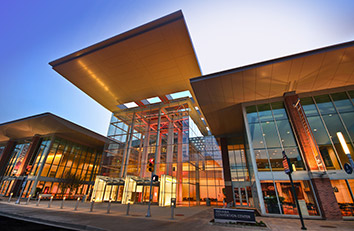 Behind-the-scenes whispers of again enlarging the mammoth Indiana Convention Center are turning into open calls, with some local hospitality leaders musing about locations for an expansion they want to see as soon as 2020.
But skeptics warn that Indianapolis should proceed with caution. Convention center space is on the rise nationwide, they say, and the oversupply is forcing some cities to dole out more incentives to snag big conventions and corporate gatherings.
Expansion supporters acknowledge the trends. However, they note that an addition completed in time for 2012 Super Bowl festivities has a sound record of success.
"We almost doubled the space, and we've been able to fill it with meaningful events," said Barney Levengood, executive director of the Indiana Convention Center and Lucas Oil Stadium. "It's very, very encouraging."
The convention center opened in 1972 as part of a strategy to revitalize downtown, and has been expanded four times. It now has 937,000 square feet, including parts of nearby Lucas Oil Stadium.
Ever-larger confabs are signing contracts—in the past couple of years, the venue hosted more than 60,000 each for the GenCon gaming convention and the National Rifle Association.
The convention center generates $800 million a year in economic impact, according to Visit Indy, the city's convention and tourism marketing arm. In 2014, its 433 meetings, trade shows, conventions and other events generated more than $32 million in hotel, rental car, and food and beverage taxes and another $53 million in state sales tax.
Levengood isn't the only one talking expansion. So is Visit Indy President Leonard Hoops.
Indeed, the two say the numbers demonstrate the need for an eventual expansion.
In early 2011, Visit Indy and the city's Capital Improvement Board, which owns the convention center, raised the curtain on a $275 million, 400,000-square-foot expansion.
Combined with the 2008 opening of the adjacent Lucas Oil Stadium, the expansion rocketed the center from 32nd largest in the nation to 16th.
Trepidation about filling the center coming out of the Great Recession has given way to confidence as the economy grows.
Time needed for conventions to set up and tear down makes 100-percent occupancy impossible; 70 percent is considered a full house. In 2007 and 2008, before expansion construction began, the convention center's occupancy ran at about 60 percent; last year, it was 54 percent.
The right crowd?
But is the most recent expansion drawing people from out of town—the segment that spends heavily on hotels and restaurants?
In 2008, the facility hosted 42 national conventions; in 2014, it hosted 106. Attendance from those events grew from 317,815 in 2008 to 635,701 in 2014.
"If you focus on national conventions, those numbers are pretty impressive," said Heywood Sanders, a University of Texas at San Antonio professor whose book "Convention Center Follies" takes a critical look at the boom in convention center construction.
However, Sanders wonders how much the city gave up to attract those events. The Chicago Sun-Times reported last year that McCormick Place spent nearly $27 million in tax money over three years to lure 81 events. Officials there are now granting McCormick $15 million annually to offer incentives to meeting planners and convention organizers.
Indianapolis officials—for competitive reasons—declined to say what incentives they offer.
Without the 2011 expansion, the city would not have secured the National FFA, Performance Racing Industry Show, National Rifle Association, GenCon, Fire Department Instructors Conference and Nike Mideast Qualifier volleyball tournament, Visit Indy's Hoops said.
Visitors to those events dropped a total of $238.5 million—$87 million more than was spent by 2012 Super Bowl visitors.
One of the biggest beneficiaries is hotels.
In 2008, downtown had 5,479 hotel rooms. Occupancy for those rooms—before the Great Recession took full effect—was 67 percent, according to PKF Hospitality Research.
Downtown now has 7,170 rooms, yet occupancy is running at 72 percent, PKF says.
Hotel rooms booked into future years increased from 506,814 in 2007 to 880,552 last year. Revenue per available room, an important measure of a hotel market's overall financial health, has increased from $80 in 2009 to $105 in 2014.
Indeed, many downtown hotels count on group business for 70 percent of their revenue.
"We rely on [convention and corporate meeting] business more than any other market in the country," said Patrick Tamm, Indiana Restaurant & Lodging Association president.
Another set of numbers that's important to examine when evaluating the success of the 2011 expansion, said Hoops: the number of groups using more than 3,000 hotel rooms per night. That number was nine in 2010, 21 in 2013, and 20 in 2014.
"Because of the expanded convention center, we're able to draw in a lot more of those size events," Hoops said. "Obviously, those events have a huge economic impact."
Paying down debt
The increased activity also has allowed for paying off construction bonds ahead of schedule.
From August 2006 through December 2010—a period that included the heart of the Great Recession—total tax collections to pay for the convention center expansion and Lucas Oil Stadium were $222.4 million, or 2.2 percent ahead of schedule, according to the Indiana Finance Authority.
When the period is extended through December 2014, collections were $428.9 million, 4.3 percent ahead of projections, the IFA says.
Those bonds were originally set to be paid off in February 2039; local officials are confident the hospitality industry—and related taxes—will stay ahead of pace.
Despite the 2011 expansion, some huge events are still tantalizingly out of reach.
The Custom Electronic Design & Installation Association trade show left Indianapolis after 2012 in part because the convention center was too small.
"It got to the point where it just couldn't grow and accommodate all its members like it needed to," said Debbie Locklear, president and owner of locally based Meeting Services Unlimited Inc., which handles the CEDIA show.
Locklear added that CEDIA considered using Lucas Oil Stadium to expand its show, but "it felt too disconnected" to the convention center.
CEDIA left for Denver and then Dallas, two of Indianapolis' chief convention rivals.
More important than mere square footage is the need for a 40,000- to 50,000-square-foot ballroom in the south part of the facility, Hoops said.
"We are hearing about that need from a number of current and prospective customers," he said.
The convention center has three ballrooms, but two are on its northwest side and one is on its northeast corner.
Ballrooms are important for large conventions' group-wide meals, speeches, and kick-off and closing ceremonies.
They also are some of the most expensive to construct, Sanders said, because they can't be supported with interior columns. The rooms thus can't support floors above them, he said, and, because they're generally used only for large gatherings, they also have the lowest occupancy rate among convention center spaces.
Which direction?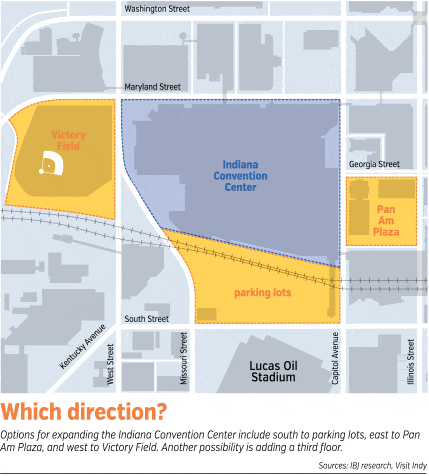 The debate of where to expand—south to parking lots, west to Victory Field, east to Pan Am Plaza, or even skyward—has already begun.
The leading idea is to expand into two parking lots immediately south to allow for a new ballroom. It's possible, Hoops said, that a southern expansion would involve converting some existing exhibit halls into a ballroom.
A southern expansion would improve connectivity to Lucas Oil Stadium, but Hoops said it's unclear what would be done with the railroad tracks running just south of the convention center and directly north of the parking lots. Also, the loading docks on the south end of the center would need to be reworked.
Choosing Pan Am Plaza could involve partnering with a private developer to build a hotel on the site with a large ballroom connected to current convention center space via an indoor—likely elevated—walkway across Capitol Avenue, Hoops said.
A large Omni Hotel with a ballroom has been attached to the Dallas Convention Center, and local officials there said that arrangement has drawn more events to the center and has kept occupancy well above 60 percent at the Omni.
Kite Realty Group, which owns the Pan Am Plaza site, has let local hospitality officials know that a hotel—possibly two—is a distinct possibility.
Some hoteliers, however, don't like the idea of a rival's partnering that closely with local government agencies, especially if tax incentives are used to essentially compete against other hotels.
Two other sites have been discussed.
The convention center could be taken west to the site of Victory Field, home of the minor-league Indianapolis Indians. But since the 20-year old baseball stadium draws as many as 660,000 people downtown annually, hospitality officials and area businesses would not be eager for it to move.
"I don't see expanding to Victory Field as a realistic option," Hoops said.
A fourth option, he said, is adding a third level. It's been done with some success to the Moscone Center in San Francisco, he noted.
The convention center in Minneapolis also has three levels. But Locklear, the meeting planner, said that facility "is very challenging."
"Convention operators and exhibitors want it set up so it's easy for people to visit exhibits in between break-out sessions and other meetings," Locklear said. "Otherwise, it's too inefficient for attendees and leads to lower foot traffic for exhibitors."
Intense competition
An expansion would run smack into massive competition.
Indianapolis is one of dozens of cities—including Austin, Texas; Los Angeles; and San Diego—contemplating a convention center expansion.
If they do, Indianapolis will likely need to dole out more and bigger incentive packages to stay in the race, said Sanders, the Texas professor. Some cities have even offered convention and meeting planners free rent.
"The supply of convention center space continues to escalate and the demand is barely budging," he said.
Indeed, Chicago's McCormick Place has seen attendance from national conventions and trade shows drop from 1.44 million in 2000 to 881,919 in 2014.
Despite expanding its convention center 50 percent in 2003, Atlanta saw attendance from national conventions and trade shows decline from just more than 716,000 in 2000 to just below 513,000 in 2014.
Las Vegas doubled its convention center to 2 million square feet in 2002 but its attendance has increased only 3 percent since 2000.
Nationwide, convention center space increased nearly 40 percent from 2000 to 2013, according to Tradeshow Week, while demand has remained static at best.
"The business of attracting events and conventions has never been more competitive," Sanders said. "A lot of convention centers nationwide have felt some pain. Some have felt significant pain."
So far, "Indianapolis has bucked the trend," he said, "but they must ask themselves there, 'How long can we keep this up?'"•
Please enable JavaScript to view this content.