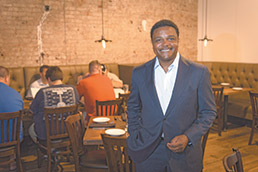 (IBJ photo/Eric Learned)
Louisville native Jeff Smith, 48, started in the restaurant business as a teenager busing tables and washing dishes at a Shoney's diner.He continued through college, working his way up to an area director's position. Then he arrived in Indianapolis in the late 1990s, buying into an Outback franchise.After stops at Bonefish Grill and Harry & Izzy's, he hooked up with former Indianapolis Colts linebacker Gary Brackett to help launch Georgia Reese's Southern Table & Bar and grow the Stacked Pickle, the two eateries under Brackett Restaurant Group.
How did you meet Gary?
It's really interesting. First of all, we developed a friendship. I used to take care of him after Colts games. He was in [Harry & Izzy's] one day and I walked up to him and said, "I'm a big fan" and gave him my card.
And then we started talking about doing restaurants. We talked about it for a long time. I pitched him [Georgia Reese's] probably five years ago. And he wasn't sure he was going to stay in town. But I think it always kind of stuck with him. We were both passionate about Georgia Reese's. We thought it was something the city needed.
What was it like working for a restaurant operated by St. Elmo ownership?
It was truly amazing. The way that they do business; they want to be the best. They bring the best ingredients, they bring in the best people, and they have some of the best facilities. They have a different way of doing restaurants than most people do, and it was a great learning experience for me.
[St. Elmo Steak House] is 113 years old and that facility is amazing—and it's because the managers have the power to do what's right. That's why it's one of the busiest restaurants in the United States.
Is Gary as intense a business owner as a football player, and how would you describe his leadership style?
Absolutely. He's very intense, but he does his homework. He comes to meetings prepared. And what I mean by that is, he's prepared to not just listen but he's prepared to act. I haven't seen him go to a meeting yet where he wasn't prepared with a list of questions. As prepared as he was about dissecting offenses, he is about doing restaurants. He is a student of the restaurant game.
How competitive is the restaurant industry?
It's very competitive. But you know, it's all about what they say: You reap what you sow. Gary's a good guy. I feel like I'm a good guy. And we've formed relationships with people who have always been honest and straightforward with people. People like that, and they'll always come work for you because they always know where they stand. They might not always like what you say, but they always know you're going to shoot them straight.
What's the future for Georgia Reese's and Stacked Pickle?
I think that Georgia Reese's is a brand that can do a couple of more restaurants. We have a request in Kentucky, where I'm from, and also up in Michigan. But our growth vehicle at this point will be the Stacked Pickle.
We'll do four to six of those every year. We'll open up West Lafayette in October. With our success at the IUPUI location, it was only natural to get on the campus of Purdue. We were looking at Butler, but I think we're a couple of years away from Butler, just because of proximity. I think people are starting to recognize Stacked Pickle. We have six of them. By this time next year, we'll probably have 11, and then we're looking to franchise them as well.
 
Click here for other interviews.
Please enable JavaScript to view this content.