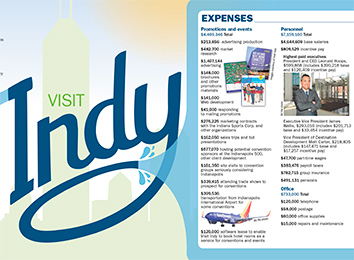 Visit Indy, the organization charged with promoting Indianapolis' convention and tourism industry, took in $13.6 million last year and spent the same amount.
The vast majority of revenue came from the Capital Improvement Board, the arm of the city that finances, builds and operates the Indiana Convention Center and Lucas Oil Stadium, among other publicly owned venues.
Expenses are spread across categories ranging from advertising to employee pensions. (Visit Indy's staff of 40 does not operate the convention center.)
All told, Visit Indy says, the city generated nearly $800 million in economic activity through conventions and events last year, resulting in $53.3 million in taxes.
Click here for details on where the organization's money came from and how it was spent.
Please enable JavaScript to view this content.