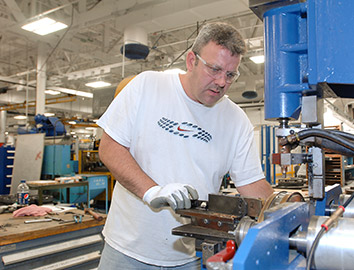 Gov. Mike Pence and Mayor Greg Ballard are scheduled to attend a press conference Monday morning where Rolls-Royce will announce a "significant investment" in its Indianapolis operations.
Rolls-Royce did not disclose the details of the announcement, but IBJ reported this spring that the company was in negotiations with city and state officials on incentives for a modernization of its Tibbs Avenue jet-engine factory that might cost more than $500 million.

Rolls-Royce employs about 1,050 union-represented workers at its Tibbs Avenue plant, the company's oldest and largest North American factory. 
Company officials
first publicly discussed
the modernization plan at an IBJ aerospace and aviation breakfast April 21, though they would say little beyond that the project would cost hundreds of millions of dollars.

Built for World War II, the Tibbs Avenue plant is obsolete, Tom Bell, a Rolls executive who has since left the company, said at the event.

The plant produces engines and engine parts for small passenger jets and a variety of military aircraft, from cargo planes to the Global Hawk Surveillance craft.

"It's solidifying what we have and modernizing our facilities to make them competitive," Rolls-Royce North America CEO Jim Guyette, who has since retired, told IBJ at the event.
IBJ reported in May the investment was not expected to create jobs but that the General Assembly this spring tweaked a law so that the project would nonetheless qualify for a $17 million state payment to Rolls under an incentive program.
Please enable JavaScript to view this content.