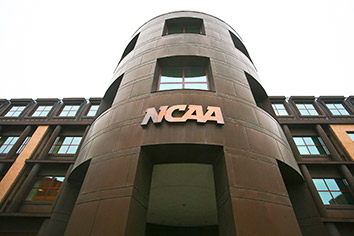 Former Louisville escort and stripper Katina Powell says she attempted to notify the NCAA about sex-related recruiting violations by the University of Louisville basketball program in mid-March before approaching an Indianapolis publisher about writing a book on her claims.
Powell contends she spoke with an NCAA representative about her work arranging parties featuring strippers and prostitutes for Louisville basketball players and recruits. However, the representative for the Indianapolis-based college sports association brushed her off, Powell claims.
"I called the NCAA in mid-March, I spoke with a young white guy, and I was telling him that I had a story about a college that was trading sex and all that stuff for money," Powell told IBJ in September.
But her call to the NCAA's main switchboard number at its headquarters was dismissed without action, she said.
"[The man who answered the phone] said he's not allowed to take a story from somebody on the outside—you know, 'It's heresay, I'm not doing that, I'm not taking the story.' I asked if there was anyone else I could possibly tell my story to, and he said, 'No, there's no one else. We can't take outside stories.' He hung up. I hung up."
Contacted by IBJ on Monday about the call, the NCAA declined to comment on whether it had been contacted by Powell.
On March 17, about a week after Powell said she contacted the NCAA, she approached IBJ Book Publishing LLC about producing a book about her claims. IBJ Book Publishing is a sister company of Indianapolis Business Journal.
Powell's book, "Breaking Cardinal Rules: Basketball and the Escort Queen," went on sale in digital form late Friday and is now the top-selling book under the basketball category on Amazon. The hard-copy version of the book is scheduled to be released later this month.
The book recounts Powell's allegations that she supplied strippers and prostitutes for 22 parties from 2010 to 2014 for University of Louisville basketball players and recruits. Those parties were organized by University of Louisville basketball staffer Andre McGee, Powell alleges.
IBJ published a story on Friday about Powell's allegations in her book, which was co-written by Pulitzer Prize-winning investigative reporter Dick Cady.
Powell said she didn't get the name of the person who answered the phone at the NCAA.
"He was so quick to say he couldn't take the story from someone on the outside, and I left it at that," Powell said.
NCAA officials declined to say whether they keep records of such inbound phone calls. In response to several questions from IBJ about the alleged call, the NCAA replied: "As with any potential violations, we welcome a conversation with anyone who has information."
Powell said her intent in calling the NCAA was simple.
"I wanted someone to tell me who I needed to talk to. It's the NCAA. They know everything that has to do with college basketball," Powell said. "I just wanted to know who could I talk to tell my story about what was going on about the college, and it didn't happen.
"They could have investigated or they could have told me what to do, who to talk to or who to tell my story to," Powell added. "They could have told me something. But they didn't tell me anything. They didn't want to hear anything—at all."
While the NCAA continues to decline comment on the University of Louisville situation, sources within the association have confirmed to IBJ that it is investigating. Typically, the NCAA offers no comment on an investigation unless or until it hands down sanctions.
Powell admits she never took her accusations to anyone at the University of Louisville.
"I never tried to contact anyone at the University of Louisville because I didn't trust any of them," she said.
Please enable JavaScript to view this content.