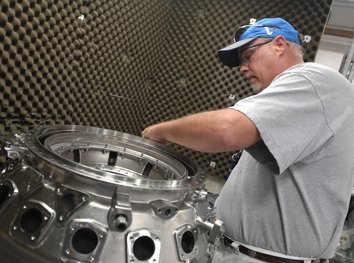 A palace in the United Kingdom provided the backdrop for Rolls-Royce Corp.'s initial discussions with state officials over an incentives deal to help it offset a nearly $600 million investment in its local operations.
More than two years later, Gov. Mike Pence and Mayor Greg Ballard stood Monday morning with Rolls Royce executives to announce the plans to reduce company costs by replacing outdated infrastructure and equipment that dates back to World War II.
Pence said conversations started at St. James Palace during a trade mission to England, where Rolls-Royce is based. The group visited the Farnborough International Airshow, which had an exhibit of Rolls-Royce's aircraft engines.
Rolls-Royce executives held meetings with state and city officials for the past year before choosing to make the investment in Indianapolis, said Phil Burkholder, president of Rolls-Royce's defense aerospace, North America division.
"When a company has an investment of this magnitude, it has multiple options," he said. "But we wanted to make Indianapolis work."
Indianapolis rose to the top of Rolls-Royce's list not only because of the incentives on the table but also because of the "history and the loyalty of the workforce," Burkholder said.
Rolls-Royce employs 4,000 people in Indianapolis, with 1,050 working in production and nearly 1,400 engineers.
 
The company's investment is not expected to create jobs. But the General Assembly this spring tweaked a law so the project would still qualify for state incentives.
The Indiana Economic Development Corp. is offering up to $17 million in tax credits and up to $1.42 million in training grants based on the company's planned investment.
Rolls-Royce and city officials also have agreed to amend an existing real estate and personal property tax abatement, amounting to millions more in savings.
The city's Metropolitan Development Commission is expected to consider the tax abatements at its Wednesday meeting.
The oldest part of the Tibbs Avenue jet-engine plant was built in 1942. The 3-million-square-foot facility is in serious need of upgrades, said Rolls-Royce officials, who predict in the plant's current condition that the company would spend $180 million during the next 20 years just to maintain it.
The $600 million Rolls-Royce will spend to modernize the plant is the "largest investment we've ever made in North America," said Marion Blakey, president and CEO of Rolls-Royce North America.
To put the amount into perspective, it's more than what Rolls-Royce paid for the plant when it acquired the Allison Engine Co. in 1995, she said.
The plant produces engines and engine parts for small passenger jets and a variety of military aircraft, from cargo planes to the Global Hawk Surveillance craft. Rolls-Royce also operates an advanced aerospace technology research and design unit in Indianapolis, which is known as LibertyWorks.
 
Please enable JavaScript to view this content.