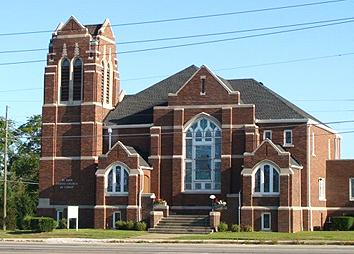 Lifelong St. John United Church of Christ member Linda Miller, 77, fought back tears as she embraced fellow parishioner Brenda Wade, who has been attending the church for 25 years.
The two women comforted each other in the hallway following the final service Sunday at the historic church in Cumberland, just east of Indianapolis. The 101-year-old structure at German Church Road and Washington Street has been at the center of controversy for months, with church leaders saying they no longer can afford upkeep on the aging building and plan to raze it, and town officials struggling to preserve the structure.
Sunday marked a final chapter for the church, whose members are preparing to move to a new building and sell the land.
"It's sad, and I am melancholy but also hopeful," Miller said. "We have to think that happiness is in moving on."
Sunday's service marked the end of the congregation's use of the land first developed by German settlers in the 1840s. The structure will be closed up soon, with cherished items put into storage until a new church is built.
Church members built the first of three churches on the site in 1855. The second church was built in 1866 and remained as the worship center until the current church was built in 1914. But repairs to keep the church are estimated in the hundreds of thousands, and with a dwindling congregation, church leaders say they had no choice to move on.
The decision wasn't easy.
"I was born into this church," said Rosie Means, 84, of New Palestine. "I'm not happy about moving, but we've just got to do it."
The congregation will meet at a temporary site, the Muesing Activity Center at Prospect Street and Carroll Road, until funds can be raised to build a new church. Church officials say they likely will have to knock down the old church in order to make the property more attractive to potential buyers. One buyer, a Pittsburgh-based developer that planned to raze the church and put a gas station on the land, already has backed out amid the controversy.
Cumberland officials say they would like to develop the church as a multipurpose site and have asked for time to find a developer, but church members say they are tired of what they consider stall tactics to save a building they can't afford.
With attendance of about 125 on Sunday, nearly double that of a normal worship service, the Rev. Jimmy Watson acknowledged there was a great deal of grieving at the final service. However, he said it was a time to be optimistic and that the parish should look at itself as a church on the move.
"God does not live in buildings built by human hands," Watson said. "In God, we move."
With nearly every seat in the pews full Sunday morning, Shirley Dingle of New Palestine hurried about, readying the coffee, doughnuts and other refreshments for a reception following the service.
She has many memories there. She's been a church member since her youth and was married in the building in 1975.
"My great-great-grandparents helped build this church," Dingle said. "This is my church, and I am sad; but it's going to be OK because we need to do this."
Her husband, Norm Dingle, has been running the sound system at the church for the past 40 years. He, too, said it's time to move out and rebuild.
"I have mixed feelings," he said. "I hate to see us go, but on the other hand, I'm ready to go."
Signs of the congregation's plans to leave have been present for weeks. The building's tall stained-glass windows, which church leaders say they will take with them, have been boarded up, and the church held a large sale in recent weeks to sell odds and ends.
The move has been a long time coming, church officials said. For nearly a decade, church leaders tried to sell the land and came close to vacating the structure before.
Doris Kleine, 83, of Cumberland, said her children were married in the church, and her grandchildren were baptized in the building and grew up running up and down its aisles. Black-and-white photos on the back wall of the sanctuary show her husband's family through 160 years of history. She said it's difficult to leave a place that holds so much of her family's past, but she knows she must.
"I'm getting older, and we older people can't keep this going here," Kleine said. "I know this is hard, but I also know we are doing the right thing. God will go wherever we go."
Please enable JavaScript to view this content.