A Hamilton County not-for-profit's plan to redevelop the old grain elevator site near downtown Noblesville has hit a roadblock.
The Hamilton County Council declined to vote Wednesday night on a resolution to support funding for Hamilton County Area Neighborhood Development's $12 million mixed-use proposal for the site.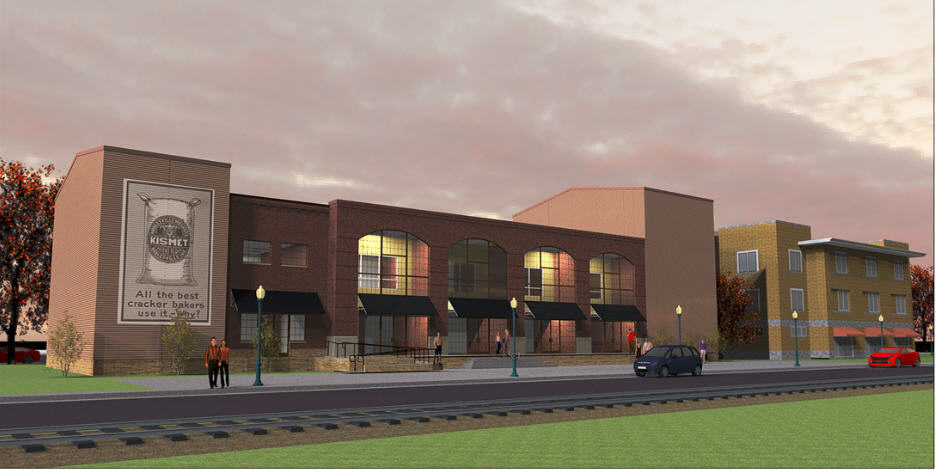 The project, now known as the Elevator and Lofts at the Noblesville Granary, would include 54 one- and two-bedroom apartments dedicated to affordable housing, a business incubator space similiar to Launch Fishers between preserved bin structures on the site, and 4,000 square feet for commercial retail.
HAND has an agreement with current owner North Central Co-Op to buy the 2-acre property for $575,000. The site on Mulberry and Eighth streets is where an 85-foot grain elevator had been used for decades to store wheat. The North Central Co-Op started demolition of the structure, which was built in 1904, earlier this year.
Hamilton County Commissioners approved $225,000 in community development block grant funds for the grain elevator project late last month, but denied HAND's request for $250,000 from the county general fund.
HAND appealed to the county council Wednesday night in another attempt to secure the $250,000, but the request died without a vote.
"This makes it a little more challenging, but we are going to persevere," Nate Lichti, executive director of HAND, said. 
The project relies heavily on securing a federal low-income housing tax credit that is distributed by the state, which offers no guarantee, but typically gives projects a better chance when fully supported by the local community.
Several people spoke in favor of HAND's proposal at Wednesday night's meeting, mentioning the desire to preserve at least part of the old mill and add more affordable housing in Noblesville.
Local developer Rocky Shanehsaz spoke in opposition to it and mentioned his vision for the property with a carousel-style parking structure, which would help alleviate the ongoing parking problem in downtown Noblesville. His project would also include an outdoor entertainment center and high-end restaurant with seating for 400 people.
He argued that the location isn't convenient for affordable housing and would landlock his business—the adjacent Mill Top Banquet and Conference Center—from any future expansion.
He started a petition on Change.org that has garnered close to 300 signatures so far and a Facebook page that has more than 80 "likes."
"I will be following this all the way to the state if I have to," Shanehsaz said.
HAND also needs rezoning approval from the Noblesville City Council, which has not taken a vote on the request yet.
The council did approve $300,000 in CDGB funds for HAND's redevelopment of the old Adams Township School in Sheridan on Wednesday night, and the commissioners have also signed off on that funding.
Please enable JavaScript to view this content.