Joe Hogsett and Chuck Brewer have presented broad brushstrokes for where each would focus if chosen as Indianapolis' next mayor. Both have promised investments in public safety and emphasized the importance of a great public education system.

Hogsett
But the winner will also face big decisions on a variety of issues that have grabbed headlines recently—or are looming around the corner.
From tackling mass transit to deciding what's next in an effort to build a justice center, the next mayor's success hinges on his ability to think creatively and build unlikely coalitions, city leaders say.

Brewer
"There's a lot the next mayor can do beyond the walls of city government," said Michael Huber, Indy Chamber president. "None of the things that have made Indy great have happened by accident or just grew out of the ground."
IBJ asked Hogsett, a Democrat who is leading in contributions and key endorsements, and Brewer, a Republican small-business owner who has the support of outgoing Mayor Greg Ballard, about their approaches to hot-button topics of particular interest to the business community.
File rendering
Mass transit
After decades of debate, the next Indianapolis mayor will be a key player in expanding and improving mass transit in central Indiana.
The issue is now in local hands. Gov. Mike Pence signed a bill in 2014 that allows Marion and surrounding counties to seek voter permission for tax increases to fund a revamped bus system. So, Joe Hogsett or Chuck Brewer will have to build a regional coalition to get something done, said outgoing Republican City-County Councilor Jefferson Shreve.
"The mayor of Indy should take the lead in marshaling the support of the mayors of our doughnut counties," Shreve said. "The regional view of approaching things is perhaps our biggest challenge and biggest opportunity. The next mayor has to get that right."
Steve Quick, president of the AFSCME local representing several city agencies, said finding a palatable way to pay for mass transit will be a challenge.
"They have to think outside the box on, 'How can it sustain itself?' But it's something we need and they're going to have to make it work," Quick said.
Brewer said an important first step in regional transit is the proposed Bus Rapid Transit line from Broad Ripple to the south side of Indianapolis.
"I see mass transit as an important hallmark of any first-class city," he said. "The status quo is not first-class."
But Brewer said he'd be more willing to quarterback a mass transit deal if the operation were supported largely by fares.
"Until that happens," Brewer said, "it's tough to be a champion of a deal that will possibly place the city in greater debt than we already are."
Hogsett said he's "excited the voters will have an opportunity to express their views. … It has to be a good deal for the taxpayers and a good deal for our neighborhoods."
Hogsett also intends to lobby nearby city leaders on the importance of strengthening central Indiana's transit system.
"You're not going to have a transformative mass transit system without buy-in" from surrounding counties, he said.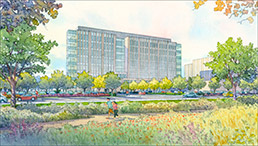 File rendering
Justice center
A $500 million plan championed by Mayor Greg Ballard to create a criminal justice center on the grounds of the former General Motors stamping plant just west of downtown was quashed this year by critics in the City-County Council, but both Republicans and Democrats agree the need for a new jail hasn't gone away.
"The aging facility demands some kind of action," said outgoing City-County Council Vice President John Barth. "The leadership approach the next mayor needs to take is to have a grass-roots partnership from Day One."
Hogsett said his administration would try to "move the ball forward as quickly as possible to find a long-term solution."
Though he'd like to use "due diligence" work from the previous administration to inform his plans, he said a new proposal could end up looking much different.
"The size and scope of the justice center as proposed, that's an open question," Hogsett said. "All of that would be on the table."
Brewer said he would try to salvage as much of the original deal as possible, but he's not sure how much of it could still move forward. He called the council's blocking of the first proposal an "incredible disappointment."
"We had an incredible opportunity to use some really ideal land and location and had structured an innovative public-private partnership," Brewer said. "We have wasted all of that political capital … . With the private partners, the opportunity to do something like that is probably lost."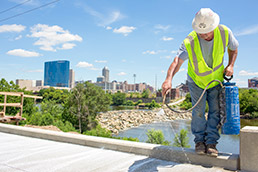 IBJ file photo
Infrastructure
Investing in roads, sidewalks, bike paths and trails will likely be a major legacy of Ballard's tenure, but most agree Indianapolis still has a long way to go to shore up the city's infrastructure needs.
Ballard has spent roughly $722 million on infrastructure projects through his Rebuild Indy initiative, which was funded largely through a sale of the city's water and sewer utilities to Citizens Energy, which netted the city $425 million.
Now, city leaders are wondering whether that level of investment will continue—and how it could happen without a big influx of one-time cash.
"When you compare our infrastructure to some of our suburban competitors, it's pretty clear we need to do everything we can to improve," Barth said. "We have a gi-normous county to manage."
Brewer supports looking for another one-time deal that could help fund such projects. He said creating a vision for tackling the rest with priorities in mind—targeting a specific neighborhood, for example—would result in more efficient spending.
"We have to be creative moving forward," Brewer said. "It's going to take an innovative, thoughtful approach."
Hogsett said it's more likely Indianapolis won't see another "one-time bonus" to pay for infrastructure improvements. Instead, he said, the city should look to spend the funding it does have more efficiently—and lobby the state and federal governments for more.
Hogsett said the recent uproar over a portion of Interstate 65 near Lafayette being shut down for about a month has renewed awareness statewide of the need to invest in roads and bridges.
"Maybe that's a wakeup call that the General Assembly and governor in the next session need to consider heightened transportation funding," Hogsett said. "We also need to be very active at the federal level."
The Indy Chamber has advocated for a commuter tax on residents who work in Indianapolis but live elsewhere to shore up the city's infrastructure needs. But legislators—who would need to authorize the tax—have so far balked.
Brewer said he's doubtful lawmakers will change their minds. But if they did, he'd be in support of it.
Hogsett said he was "open to conversations" about the commuter tax, but said it should be approached as a question of "tax equity and fairness."
Also, "if it's tied to better roads and bridges and better transit, it seems to me it probably has a better chance of being agreed to by all the relevant stakeholders," he said.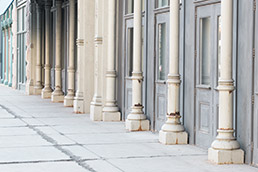 IBJ file photo
Circle Centre mall
Former Mayors Bill Hudnut and Steve Goldsmith are widely credited with the creation of downtown's Circle Centre mall. But the 20-year-old, 752,000-square-foot facility is in need of more love.
Simon Property Group Inc. is pitching a $20 million revamp for the mall, which has seen some worrisome exits by retail tenants, including Nordstrom. The mall ownership group—Simon and 18 other local companies that originally pumped $75 million into the $320 million project in the early 1990s—is evaluating the plan. But the proposal would likely need a funding boost from the city.
Saving Circle Centre is important to the health of the city, Huber said, but it's time for city leaders to think about the future of the space beyond retail. He said more activity along Georgia Street to the mall's south and the Indianapolis Star's repurposing of the Nordstrom space are good indicators of its future success.
"I remain optimistic about Circle Centre as long as this community is able to see it in a different way," Huber said.
Brewer said he's hesitant about the city funding any mall renovations, but is "eager to see some really innovative ideas" about how to revamp the space, which covers two full city blocks in the heart of downtown.
"The city has invested tens of millions of dollars into this mall already, and Simon Property Group is a billion-dollar company," Brewer said. "For taxpayers to continue to subsidize efforts like this, there really needs to be a strong and clear return on investment as we think about our top priorities such as public safety and neighborhoods."
Hogsett said his support for using city funds to renovate the mall would hinge on whether specifics of any arrangement "would be a good deal for the taxpayers."
"A successful mall pays dividends for all of our downtown commercial districts," he said.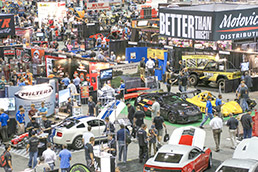 File photo
Convention capacity
Despite four additions to the Indiana Convention Center that now encompasses nearly 1 million square feet, local hospitality leaders are already hopeful for another expansion within five years.
They say strong financial indicators provide evidence an expansion is warranted. The convention center generates $800 million a year in economic impact and brought 433 meetings and events to Indianapolis last year.
Hogsett said he would work with convention center and Visit Indy leaders on squeezing the most value out of existing facilities before new space were added.
But he said space isn't the only reason Indiana doesn't attract as many big conventions as it would like. Gov. Mike Pence last year signed into law the Religious Freedom Restoration Act, which many said could allow discrimination against gay people, and Hogsett said that threatened the city's ability to attract big conventions. He promised to lobby state lawmakers to include sexual orientation and gender identity in the state's non-discrimination law to prevent that from happening.
Brewer was more enthusiastic about another expansion because of its economic impact. In 2014, convention traffic is estimated to have generated more than $42 million in hotel, rental car, and food and beverage taxes, along with $53 million in sales taxes.
"This is a strength we need to play to if we're going to continue to remain a viable economic engine," Brewer said. "It creates jobs. This is a good investment."•
 
Please enable JavaScript to view this content.