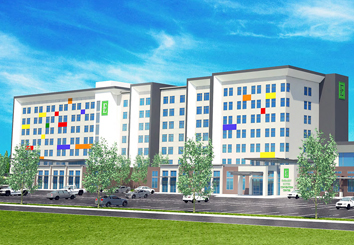 The Noblesville City Council voted 7-0 Tuesday night to approve millions of dollars in tax incentives for a hotel and conference center project.
The seven- to eight-story, 187,700-square-foot hotel would be part of a proposed $35 million mixed-use development at exit 210 just off Interstate 69 in Noblesville.
The 198-room Embassy Suites hotel would have an attached 20,000-square-foot conference center, plus an additional 5,000 square feet of meeting space on a 15-acre property to the west of Olio Road between I-69 and Tegler Drive. The development would also include four stand-alone, non-fast food restaurants, according to city documents.
"This will be a catalyst project for Exit 210 and another opportunity to create jobs and additional economic development for the City of Noblesville," Noblesville Mayor John Ditslear said in a written statement. "The high-end hotel and conference center will be a major draw for out-of-town visitors, business guests in the high-tech business parks and tourists to Hamilton Town Center."
Bharat Patel, chairman and CEO of Indianapolis-based Sun Development & Management Corp., is leading the project.
The city is offering to reimburse the developer $4 million for construction of the conference center and $2 million for land-development expenses, and will use a bond issue to make those payments.
The city council approved a 10-year, 100 percent real and personal property-tax abatement for the conference center, which would save the developer a total of $1.3 million over the abatement period.
The developer also will receive a 10-year break on real property and personal property taxes on the hotel and restaurant properties. Under the deal, the developer will pay at least $458,000 annually on that portion of the development until at least two of the restaurant lots are sold. After that, taxes will decrease to $358,000 annually through the remainder of the first five years of the abatement period.
In years 6-10, the developer will receive a break of 80 percent on real and personal property taxes.
After the abatement expires, the city expects to collect an estimated $879,000 annually in taxes.
Noblesville is also waiving development fees under the arrangement.
Project documents show the hotel and conference center taking up 6.2 acres in the center of the property with a 367-spot parking lot and land for future restaurants surrounding it on both sides.
The project is expected to create 70 full-time jobs and 15 to 25 part-time jobs.
The 198-room Embassy Suites hotel would have an attached 20,000-square-foot conference center.
Construction is expected to begin in spring 2016 and be completed within 18 months.
A Cambria Hotel & Suites is already open nearby at 13500 Tegler Drive and a Holiday Inn Express & Suites with 125 rooms is planned next door.
Sun Development & Management owns 32 hotels in 12 states, including four Embassy Suites, and has six hotels under development.
The company suffered financial difficulties during the Great Recession and filed for Chapter 11 bankruptcy on seven properties across the nation to protect them from foreclosure in late 2013. Court documents showed Sun owed the National Republic Bank of Chicago $120 million in total on mortgages for all seven properties. None of the properties were in Indiana.
 
Please enable JavaScript to view this content.