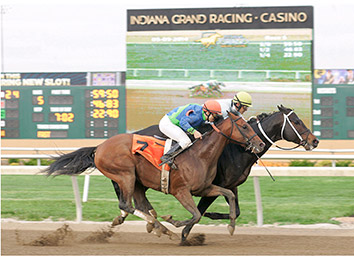 The Indiana horse racing industry was already in serious decline, local horse-farm operators say, when former state Sen. Thomas Weatherwax joined the Indiana Horse Racing Commission in late 2013.
By the time Gov. Mike Pence named him commission chairman last year, Weatherwax had already heard an earful from the equine industry statewide.
The number of registered Indiana-bred foals had fallen by more than a thousand since 2011. The in-state handle—the amount wagered at tracks and off-track-betting sites—was in free fall.
And horse owners and others complained that the regulatory agency's iron-fisted policies and lackluster marketing were sending horse-farm operators fleeing for other states while bettors took their gambling dollars elsewhere.
Weatherwax became convinced a change was needed.
So he and the four other IHRC board members—all appointed by the governor—unanimously voted to fire the commission's longtime executive director, Joe Gorajec, at a special Oct. 10 commission meeting.

Weatherwax
Gorajec could not be reached for comment for this story.
Now, Weatherwax is promising to turn the tide on the industry, even as horse racing struggles across the country. He's launched a nationwide search to replace Gorajec and hopes to have a new hire by the beginning of the racing season in May.
In the meantime, he said, he's working with the governor and lawmakers to beef up promotional efforts—to encourage Indiana horsemen to grow their operations, to draw out-of-state breeders and trainers to Indiana, and to lure more bettors to the state's two horse racing tracks in Anderson and Shelbyville.
Weatherwax and fellow IHRC board members are promising to do all this without sacrificing any of the integrity Gorajec sought through tough regulations for horse racing.
"We want to build a higher standard and have more exciting races," Weatherwax said. "We also want to build the base of Indiana-sired horses."
Gorajec, who had been director of the IHRC since its inception in 1990, long claimed that maintaining law and order within the industry, not promoting it, was his job.
Weatherwax and other commissioners strongly disagreed. So did Hoosier horsemen, who have applauded the change.
"Tom Weatherwax was the first chairman to ever stand up to Joe Gorajec," said Jack Kieninger, president of the Indiana Standardbred Association who operates a horse farm in Fulton County, just north of Rochester. "The commissioners we have in there now, they listen to what the horsemen have to say before making a decision. This is the first time the horsemen actually have a voice."
Armed with feedback from horsemen, the IHRC board sought lawmakers' support. This year, the General Assembly passed a law that made promoting the industry a responsibility of the IHRC executive director.

The law also increased the amount of money in the Breed Development Fund that may be used for IHRC expenses from 2 percent to 4 percent—which Weatherwax said gives the commission an additional $400,000 annually to spend on marketing.
"We're really excited about where the industry is going," said Mike Brown, executive director of the Indiana Horsemen's Benevolent & Protective Association. "We believe the General Assembly positioned us for success."
Since the law didn't take effect until July 1—the middle of this racing season—Weatherwax said an even bigger marketing boost will be evident next year.
Still, the industry has a considerable hole to dig out of on two important fronts.
The number of Indiana-bred foals has been in decline since 2011, when it was 2,733, according to the IHRC. Last year, the number was 1,717.
"We've seen ebbs and flows in this number before, but we've never seen a drop like this," Kieninger said.
Also, the amount wagered at Indiana tracks and off-track-betting parlors has dropped each year, from its peak of $190 million in 2005 to $83 million last year.
Focus on Illinois
Weatherwax said fuller, more competitive fields—with more Indiana-sired horses—will help draw spectators and bettors back to Indiana facilities. That in turn would create bigger prize purses, which fuel the industry's growth cycle, he said.
He already has an idea about where to point those marketing dollars.
"I'm really targeting Illinois. That's where I think the growth for us is," Weatherwax said. "Ohio is strong and growing. So we have to make sure we don't lose good horsemen to Ohio."
Indiana's horse racing industry got a big boost in 2008 when tracks were allowed to install slot machines. Under state law, the racinos share a percentage of their adjusted gross revenue with horsemen. The slots money added tens of millions of dollars annually to the till for purses and other support.
But industry experts said the Great Recession still took its toll. Gorajec's crackdown on regulations added to the swoon, then Ohio racetracks added slots in 2013.
Horsemen complained that the IHRC's regulations—particularly those governing therapeutic drugs—were out of step with other states' and required horses to be sidelined too long. The IHRC also began demanding prize money back from owners whose horses later tested positive for drugs.
Horse operators—and some veterinarians—began to complain about myriad problems, including the length of time it took to get lab results. A handful of lawsuits was filed against the commission.
"Money that should have been used for breed development and marketing was being used for regulation," said Jim Noel, a member of the Indiana Horse Council board who runs a quarter horse operation in Coatesville. "It got to the point that a lot of horsemen from other states—and I'm talking thoroughbreds, standardbreds and quarter horses—wouldn't come here to race. And established operators here were fleeing for Kentucky and Ohio."
Holding their own
Kieninger said the declines came despite the state's having "two of the best racetracks in the nation"—Hoosier Park in Anderson and Indiana Grand in Shelbyville.
"These tracks we have here are world-class," Kieninger said. "There should be more horses racing here."
The financial bind is compounded by the industry's struggles to attract young fans.

Ratcliff
"Our core bettor is getting older, no doubt about it," said Centaur CEO Rod Ratcliff. "We have to figure out how to appeal to the new-technology people and young people. Our business will start declining if we don't get millennials interested."
To that extent, Centaur has made major improvements in recent years to its facilities—including clubhouse overhauls and new jumbotrons—and has heavily promoted the ability to bet on races via cell phone and tablets.
One reason the in-state handle is down is that 25 percent of the betting is now done via the Internet—and that doesn't count toward the in-state handle, even when Hoosiers are doing the betting, Ratcliff said.
But the overall financial picture at both Indiana tracks is healthy, he emphasized.
The total amount bet from any location on races at Hoosier Park—which hosts standardbred races—has grown from $78.7 million in 2013 to $85.9 million last year, according to Centaur. And while the amount bet on races at Indiana Grand—which hosts thoroughbred and quarter horse racing—slipped from $107 million in 2013 to $101.2 million last year, Ratcliff said it's on pace to be up at least 20 percent this year.
"We're definitely profitable at both tracks," he said.
Centaur has set aside $25 million of its $53 million in total purse money for Indiana-bred horses, to help grow the industry, Ratcliff said, and he hopes to increase that in the coming years.
That's the kind of commitment needed, Weatherwax said, to grow an industry a recent Purdue University study said employs more than 10,000 Hoosiers and pumps nearly $1 billion annually into the economy.
"If it's Indiana-bred, that adds to the agricultural industry in this state," Ratcliff said. "That's why it's so important."•
Please enable JavaScript to view this content.