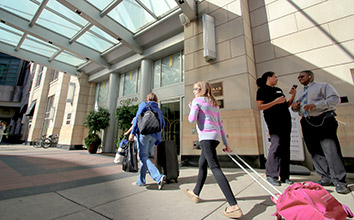 Hotel developers emboldened by downtown's escalating occupancy rate are poised to bring about 800 more rooms to the market.
At least five hotel developments that are in the works would increase the amount of downtown rooms by a healthy 11 percent, taking the number to about 8,200.
Developers pitching the projects, which include both new construction and retrofitting existing buildings, are encouraged by the strong occupancy rate, as well as other leading indicators, said Jan Freitag, a senior vice president at the Hendersonville, Tennessee-based hotel data provider STR.
"If you look at the downturn in August 2009, the 26 hotels in downtown sold roughly 900,000 rooms," he said. "Now, you have 31 [hotels] and you're selling 1.3 million [rooms]. That demand increase has a lot of developers excited."
The jump in the number of rooms sold has translated to higher occupancy, despite the arrival of more downtown hotels. From 2010 through August of this year, occupancy has risen from 63.7 percent to 71.2 percent, a 12 percent increase, data from PKF Hospitality Research shows.
"Any time a city can hover above 70 percent for its hotel occupancy, we know that hotel developers will start eyeing that city for future development," Visit Indy Vice President Chris Gahl said.

Gahl
The biggest contributor to downtown's larger room inventory is the 1,005-room JW Marriott. It opened in time for the Super Bowl in February 2012 and by far is the city's largest hotel, dwarfing the 622-room Indianapolis Marriott Downtown.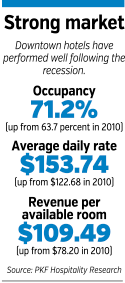 If downtown could absorb the JW Marriott, it certainly can handle the next wave of additional rooms, particularly since the economy has improved since then, said Mark Eble, Midwest regional vice president for San Francisco-based PKF Hospitality.
"Everybody thought the sky was going to fall when they dropped the JW Marriott in the market, and occupancy actually went up," he said. "That hotel was absorbed essentially immediately."
Beyond rising occupancy, developers are buoyed by a number of positive metrics, including downtown's rising daily room rates. Since 2010, they've climbed 25 percent, reaching $153.74.
Eble said one factor that will help the downtown market absorb the additional hotels is that they will come online at different times, and some will compete for different clientele.
The hotel nearest to completion is the 106-room extended-stay Home2Suites by Hilton, under construction in what's known as the annex in the rear of the recently rehabbed Penn Street Tower at 115 N. Pennsylvania St.
The $15 million project—a joint venture between East Lansing, Michigan-based HRC Hotels LLC and Valparaiso-based Good Hospitality Services LLC—is on track to begin checking in guests in February.
HRC and Good already operate the downtown Homewood Suites at 211 S. Meridian St. and three other hotels in the area.
Home2Suites will have nightly rates of about $120, making it a cheaper alternative to the nearby Homewood Suites, where the cheapest rooms run $179.
Hotel building is in "full swing" nationally, Good Hospitality President Jeffrey Good said, driven by healthy fundamentals for the industry.
Smaller, boutique hotels targeting business travelers are going up faster than large hotels with meeting space targeting convention business, Freitag of STR said. He said developers can construct limited-service hotels more quickly, and they boast higher profit margins.


That trend is playing out in downtown Indianapolis, where all the hotels in the works would offer fewer than 200 rooms.
The most ambitious of the bunch is the $55 million 21c Museum Hotel to be built on a surface lot north of Old City Hall. The 149-room, art-centric hotel is part of a mixed-use development that would turn the former city hall into a public art gallery and hotel lobby. Financing for the project, which is expected to break ground by the end of the year and wrap up in early 2018, includes a $9.1 million city loan.
Another project that entails refurbishing an old building is the 190-room Canopy by Hilton, which would be part of Keystone Group's redevelopment of the Illinois Building at the southeast corner of Illinois and Market streets.
The other two newcomers would be new construction. Rockville, Maryland-based Choice Hotels International said it wants to build an 11-story, 193-room Cambria Hotel & Suites on a surface parking lot at the northwest corner of South Meridian Street and Jackson Place. And Illinois-based Hillcrest Development Inc. plans to build a $17 million, 140-room extended-stay TownePlace Suites by Marriott hotel two blocks east of Lucas Oil Stadium, between Russell Avenue and South Meridian.

Eble
"Downtown continues to be a robust market," Eble at PKF said.
Not all hotel developers are charging ahead, however.
Minneapolis-based CSM Corp. appears to have shelved plans to build a 286-room, dual-branded Aloft and Element hotel on a parcel at the corner of Pennsylvania and Georgia streets, across from Bankers Life Fieldhouse.
The developer presented preliminary plans to the Indianapolis Historic Preservation Commission in September 2014 but has not returned since. The company did not return calls from IBJ.
Industry observers say a prime site to build a convention hotel with 500 to 800 rooms would be Pan Am Plaza.
Kite Realty Group Trust owns the property but does not own the underground parking garage, which has complicated redevelopment discussions.
Visit Indy supports the construction of a hotel there, Gahl said, because it could connect directly into the Indiana Convention Center via an elevated walkway.•
Please enable JavaScript to view this content.