An Indianapolis developer has launched the second phase of a $15 million retail project on the northeast side that's anchored by a Walmart Neighborhood Market.

Douglas Realty Advisors partnered with Wal-Mart Stores Inc. to buy the 10-acre property in January 2014 from a Louisville investment group.
At the time, the site at 56th Street and Emerson Avenue was home to a 108,000-square-foot shopping center built in the 1970s. The center once was anchored by an O'Malia's grocery store but had just one tenant remaining—a Dollar General store.

Following demolition, the 42,000-square-foot Neighborhood Market at 5550 Fall Creek Parkway opened in October 2014.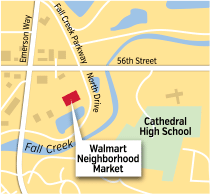 Now, Douglas Realty has started construction on a 12,000-square-foot retail center, adjacent to the grocery store, called Windridge Shoppes, in a nod to the property's former name—the Windridge Center. The retail space is expected to be finished in May.

"I think in some of these neighborhoods there is a limited amount of what I would call A-type retail space," Douglas Realty principal Doug McAuley said. "As more and more of these opportunities pop up around the city, I think retailers will be attracted to these neighborhoods."

Douglas Realty so far has signed as tenants Subway, Pizza King and Great Clips, which collectively will take 5,000 square feet. McAuley hopes to sign a nice restaurant to take the 4,500-square-foot anchor space, he said.

A $2.3 million construction loan from the Local Initiatives Support Corp. helped finance the project.

LISC targeted the 56th Street and Emerson Avenue commercial district as an area for reinvestment under the Northeast Quality of Life Plan it supports, said Bill Taft, executive director of LISC's Indianapolis office.

"This neighborhood was in danger of becoming a 'food desert,' just like the southern portion of the northeast corridor along 38th Street," Taft said in an email. "We are excited that this project joins the recent announcement of a Save-a-Lot grocery in the Avondale Meadows project, which together will fulfill the neighborhood goal of creating access to high-quality food and services."

McAuley is appreciative of LISC's loan.

"It's really refreshing to have a lender who understands the neighborhood and some of the challenges and, to a certain degree, is willing to take a little risk," he said.

Before the Neighborhood Market opened, the nearest groceries were Kroger stores at 71st Street and Binford Boulevard and at 42nd Street and Arlington Avenue.

Douglas Realty is developing a similar project at the southwest corner of Michigan Road and Kessler Boulevard in the Highland-Kessler neighborhood on the west side. That project also is anchored by a 42,000-square-foot Neighborhood Market, which opened in August 2014. Douglas Realty plans to add 18,000 square feet of retail there, McAuley said, with construction starting next year.