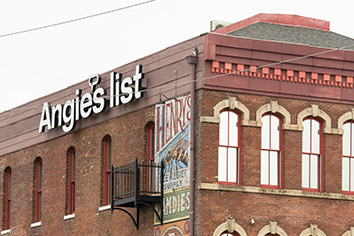 Indianapolis-based Angie's List on Wednesday morning posted a modest profit for the third quarter, and CEO Scott Durchslag suggested he, for the moment, was not interested in pursuing a merger that at least one activist investor has been demanding.
The home-services marketplace and reviews firm reported net income of $82,000 in the period, or zero cents per share, up from a loss of $5.2 million, or minus 9 cents a share, in the same period last year.
The company beat Wall Street earnings projections of minus 5 cents per share. But it missed its revenue projections for the quarter and lowered its revenue forecast for the year, disappointing investors.
After the earnings report, Angie's List shares opened for trading at $5.34, down about 15 percent from Tuesday's close.
Angie's List has come under investor pressure in recent months for numerous quarterly losses and its historically low share price. New York-based TCS Capital Management last week said the company should explore a merger with IAC's HomeAdvisor "because it no longer makes sense for Angie's List to remain a standalone company."
But Durchslag, a former Best Buy executive who joined the company Sept. 8, said in Wednesday's earnings call with analysts that, at least for the moment, it didn't make sense for Angie's List to resort to a sale or merger.
"We're always looking for ways to increase value, and the right thing to do now is to let us develop our plan so people can take a look at what we can do organically and compare that with other options," he said. "I don't know how anybody can say they know what the best option is for the company until that happens."
Expenses in the latest quarter were essentially flat from a year ago, but the company swung to a profit by growing revenue 7 percent, to $87 million. Analysts had expected revenue of $89.6 million.
The company said it expected $344 million to $348 million in total 2015 revenue, down from its previous guidance range of $357 million to $363 million. It adjusted EBITDA, or earnings before interest, taxes, depreciation and amortization, guidance down to a range of $27 million to $30 million from a prior range of $30 million to $32 million.
The company blamed the projected shortfall in EBITDA on lower-than-expected revenue, as well as the expense of its CEO search and professional service fees related to "activist activity in the company's stock."
Angie's List went public in late 2011 and has reported profits in only five of the past 20 quarters. But three of those profitable quarters have come in the past year, as the company curtailed marketing expenses amid thinning investor patience.
Please enable JavaScript to view this content.