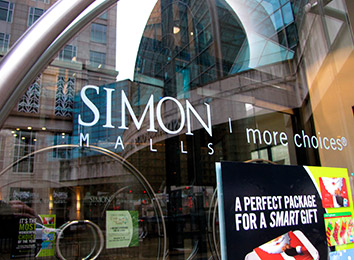 Indianapolis-based Simon Property Group Inc. on Tuesday morning raised its dividend and full-year guidance after posting strong third-quarter earnings.
The nation's largest mall owner reported a 33.7 percent jump in funds from operations. FFO, a measure of cash flow for real estate investment trusts, rose to $918.7 million, or $2.54 per share, compared with $689.4 million, or $1.90 per share, in the year-ago period.
Analysts were expecting $2.47 per share.
Third-quarter 2014 results included a loss on the extinguishment of debt of $127.6 million, or 35 cents per share.
Profit for the third quarter of this year rose to $420 million, or $1.36 per share, compared with $252 million, or 81 cents per share, in the third quarter last year.
Revenue grew 6.9 percent, to $1.3 billion, meeting analysts' expectations.
"This was an excellent quarter for our company, with strong financial and operational performance, successful openings of new and expanded Premium Outlet Centers and the groundbreaking of two new outlet centers, including our first outlet center in France," Simon CEO David Simon said in a prepared statement.
Simon increased its full-year earnings guidance by 3 cents, to a range of $5.50 to $5.55 per share, and raised its quarterly dividend to $1.60 per share, a 23.1 percent year-over-year increase.  
Occupancy in Simon malls dipped to 96.1 percent in September, down from 96.9 percent in the year-ago period. Sales per square foot increased from $613 to $616. Average rents also grew, to $48.57 per square foot, up from $46.29 in the third quarter of 2014.
Simon shares traded Tuesday morning at $204.60 each, up $1.23 from their opening price.
 
Please enable JavaScript to view this content.