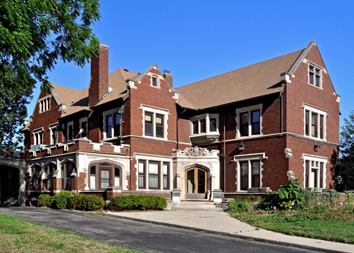 The historic Glossbrenner Mansion at 3202 N. Meridian St. on Indianapolis' near-north side has a new owner.
Indiana Landmarks announced Tuesday that it has sold the home to Broad Street Developers, a locally based holding company.
Broad Street paid $412,000 for the property and expects to invest another $400,000 to repurpose the building for office space. Besides Broad Street, R&B Architects, Form Construction and Kessler Land Studio also will occupy the building. The companies now are located at 1030 Central Ave.
The not-for-profit Indiana Landmarks received the 7,200-square-foot house in 2010 as a gift from the Walther Cancer Foundation, which sought long-term protection for its former headquarters.
Alfred Glossbrenner, a printing company owner and local business and political leader, hired English-born architect Alfred Grindle to design the home in 1910. The Tudor Revival-style of architecture features red brick with carved limestone details and leaded glass windows. The original chandeliers and sconces, carved limestone fireplaces and mahogany and Circassian walnut woodwork are a few of the interior highlights.
After Glossbrenner died in 1936, his wife lived in the mansion until 1945, when she sold it to Dr. Joseph Walther.
Walther practiced medicine there and added an addition to the north side of the home, which became his first hospital. In 1966, he opened behind the mansion Winona Memorial Hospital, which closed in 2004. The mansion later became the headquarters for the Walther Cancer Foundation.
Indiana Landmarks removed the non-historic addition and restored the north façade to its original appearance. Inside, the preservation group installed a new heating and cooling system, removed carpeting and refinished the hardwood floors.
It originally listed the building in November 2014 for $500,000.
King Park Development Corp. provided mortgage financing.
 
Please enable JavaScript to view this content.