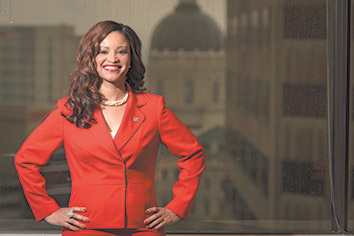 Senior Vice President, Community & Economic Development
Fifth Third Bank
Scenario Adebesin was the first of 10 siblings to graduate from college with a four-year degree—and the only one to obtain a master's.
"I did not come from a wealthy family," said Adebesin, who grew up in inner-city Cleveland. "Many people in my community didn't have the opportunity to go to college." Nor did some aspire to it.
"We didn't have a doctor or lawyer next door," she added.
As such, she's acutely aware of how challenging it is for kids without role models.
"Sometimes you need someone to hold your hand and say, 'Yes, you can do it. No matter what your circumstances, you can achieve as well.'"
And achieve she has. With an accounting degree from Chancellor University in Ohio and an MBA from Cleveland State University, she now serves as senior vice president of community and economic development for Fifth Third Bank's Greater Indiana Region. She manages the company's community reinvestment initiatives and develops community partnerships. She also chairs Fifth Third's Diversity and Inclusion Council for the region.
"I stumbled into banking," she said. After a lengthy stint with the Cuyahoga Metropolitan Housing Authority (including serving as interim CEO), she happened to be at a Fifth Third in Cleveland where a casual conversation led to an employee's telling her, "You'd be a great fit here." A few days later, a call came from HR, followed by an offer to work on mortgages. A transfer to Indianapolis was part of her climb up the Fifth Third ladder.
Adebesin has leveraged millions in charitable giving and equity investments benefiting underserved communities, individuals and small businesses. Fifth Third pledged $100,000, for instance, toward plans to create a quality-of-life project for the south-side neighborhoods around the University of Indianapolis. She also arranged Fifth Third's adoption of Clarence Farrington School 61 as part of the IPS Business Alliance, leading to the purchase of more than 800 books to stock the library and 60 computers to increase student access to technology.
More than 400 organizations throughout the state are recipients of assistance from Fifth Third. Charitable giving breaks down into four areas: affordable housing/neighborhood revitalization, education, diversity/inclusion, and health care and wellness.
"The causes we support have to align with those pillars," she said. Adebesin also serves or has served on the boards of the Greater Indianapolis CRA Council, Boys & Girls Clubs of Indianapolis, Women's Fund of Central Indiana, Marian University's 21st Century Board of Visitors, and more.
"If you know anything about Fifth Third, the community is part of our DNA," she said. "We're a financial institution built on relationships. Yes, at the end of the day, we are here to make a profit, but at the heart of it is our community."
She knows that "Scenario can't do it all," as she puts it, which is why she is committed to mentoring.
"I try to be really real with people," she said. "I feel pretty blessed to be able to provide words of advice or coaching to help individuals who otherwise would have made a wrong turn."
One project she coordinated provided bank funding to establish a partnership with Providence Cristo Rey High School, which has led to students working under her supervision at the bank. "So many individuals just need a little help getting from one point in life to another."•
Please enable JavaScript to view this content.