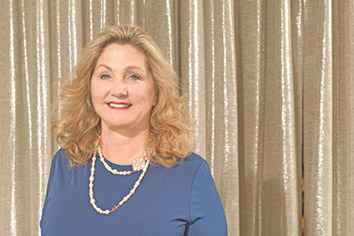 Partner
Cohen Garelick & Glazier Attorney
MaryEllen Kiley Bishop has plenty of accolades attached to her career in estate planning, probate and trust law.
Bishop is a fellow of the Indiana State Bar Foundation and a member of the executive council of the real property, probate and trust section of the Indiana State Bar Association, a five-star lawyer and an Indiana Super Lawyer, and one of the inaugural selections for the Bar Register of Preeminent Women Lawyers.
But one of her greatest spheres of influence is anchored about an hour south of her Indianapolis office.
As vice chairwoman of the Indiana University Board of Trustees, Bishop is a key player in determining what happens for students and staff at the state's largest institution of higher learning. First elected to the board in 2010 by the IU alumni, she was re-elected in 2013.
"She has brought thoughtful, critical and compassionate energy to the challenges facing our academic institution," said Andrew R. Klein, dean and professor of law at the IU Robert H. McKinney School of Law. "I know without a doubt she is a wise and beneficial steward of the university."
The job of an IU trustee includes setting tuition, academic standards and academic programs, as well as hiring the president.
"We get to look at it from the 3,000-foot level," said Bishop of the daunting scale of the position.
One of the trustees' major recent accomplishments was establishing an engineering program on the Bloomington campus. Previously, IU was one of only two schools in the 62-member Association of American Universities that did not have engineering.
Bishop also has been chairwoman of the IU Alumni Association, co-chairwoman of the Planned Giving Committee for the IU School of Medicine, a member of the IU Athletics Committee, a member of the board of visitors of the Robert H. McKinney School of Law, and a member of the steering committee of the Colloquium for Women of IU.
On top of all that, she's on the board of the IU Foundation and the Women's Philanthropy Leadership Council.
"I used to say it took about 20 hours a week," she said of her work with the board of trustees, "But I can tell you, I go to a lot of events. Those are optional, but …"
That means dinners, receptions and, of course, sporting events. Her favorite?
"Graduation," she said. A particular point of pride was being able to hood her son, who—like her and her husband—graduated from the Robert H. McKinney School of Law.
And all three work at Cohen Garelick & Glazier.
"I don't know [that] there are any cons," she said about working with her family. "It's an opportunity to see them for lunch virtually every day. When our kids were young, that was the only time my husband and I could get together. It's a real blessing."
In her spare time? More IU events, of course.
"There's nothing like going to alumni events," she said. "There's no competition, nobody fighting for a client. Everyone is there because they love [IU] … and what better place to be?"•
Please enable JavaScript to view this content.