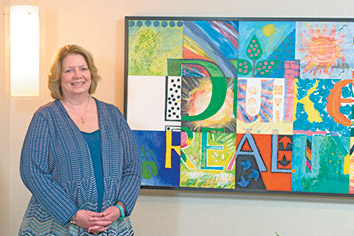 Chief Human Resources Officer
Duke Realty Corp.
Denise Dank, the chief human resources officer for Duke Realty Corp., said that when she first went into the field 20 years ago she had no idea "just how broad the scope of it was."
"Like many people," she said, "I thought it was just about hiring and benefits."
What she knows now is that human resources is about "a strategic initiative for a company to really be able to have the right people in the right place at the right time, to have them engaged and to have them be good stewards of your brand."
With more than 600 employees at 22 offices across the United States, Duke Realty isn't the easiest place to be in charge of human resources.
"Having more people further away makes it more challenging to get folks on board and feel part of the team," Dank said. "Part of my job is to help all of them really understand and participate in the company values, mission and culture."
Dank got used to challenges from the beginning of her tenure at Duke. In 1995, when the Indiana University graduate joined the company (after a stint with a business that shut down), Duke Realty had gone public on the New York Stock Exchange just a year earlier, a move that brought with it the need for a more organized, centralized and professional approach to HR.
"We needed to get organized quickly in order to behave in a way that a public company is expected to behave," she said.
Dank said she "came in at a time when the function for HR had been happening—they were hiring and paying and taking care of benefits—but the department was not well formed."
"Three of us—Laura Sylak, Jenny Bean, and I—came in within a year of each other [with Dank heading the department] and we were able to create this function together." All three, Dank is happy to report, are still with Duke.
Under Dank's leadership, the company has instituted in-house mentoring and leadership training programs and now offers assistance to first-time home buyers and adoptive parents, creates scholarships, and organizes and promotes volunteer efforts, including paid community days.
Her work has helped position Duke to be recognized as one of the best places to work in Indianapolis, where it is headquartered. It has earned similar recognition over the past two years in six of its remote offices.
When assessing potential hires, Dank looks at whether the candidate has the experience and education necessary for the particular position. But that's just the beginning. "The things I try to get hiring managers to think about are integrity, hard work, and persistence," she said. Candidates "should be motivated, self-directed and have a positive outlook. You can teach the other stuff."
A founding member of the Diversity Roundtable of Central Indiana, Dank serves on the board of the United Way of Central Indiana and is a member of its "Ready to Learn/Ready to Earn" committee. She also serves as director of administration and as a member of the building design committee for Fountaintown Christian Church.•
Please enable JavaScript to view this content.