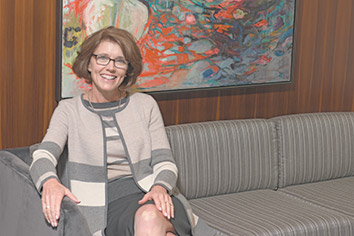 Senior Vice President/Director of Wealth Management
PNC Financial Services
Nadine S. Givens' world has changed dramatically since she grew up in Florida helping her single mom raise her nine siblings and step-siblings.
"I was kind of a second mother to them," said Givens, who today works with clients who typically have more than $2 million in assets, $250,000 in income, or $1 million in liquidity. "Sometimes I say that's why I wound up in management. Although maybe the team feels like I blur the mother/manager lines sometimes."
Givens, the first of her generation to attend college, started her career in marketing and product development for Northern Trust Co. in Chicago. After joining Indiana National Bank (now JPMorgan Chase) in 1988, she became one of the few senior vice president bankers in Indiana in the 1990s, and the first female to head JPMorgan's wealth management business in the state in the 2000s.
"Early on, when I walked into the room with peers, I was often the only woman at the table," she recalled. "Today, it's so very different. I'm pleased to say that's a thing of the past."
Now, as PNC's managing director of wealth management for central Indiana, she oversees a team of 40, helping protect and grow assets for the bank's clients.
"One of the things that is so interesting and inspirational about my work is that the clients we work for and build relationships with are some of the most successful, interesting, philanthropic business owners in our community," she said. "I'm inspired by meetings with our clients."
Her focus is also on her employees. Among other accomplishments, Givens has been instrumental in creating part-time positions to allow valued employees to find work/life balance that works for them and the company.
"I had to convince people that it would work," she said. "The good news is that it worked extremely well—one of the women became one of our top two salespeople in her area in the country. That was great PR for the fact that [women] can do both."
She added: "I make sure my team knows that, yes, we work hard. But your families are most important." While her own children were in school, she exemplified that by serving as a golf-team and lacrosse-team mom. She seems as proud about not missing a lacrosse match as she is of her workplace accomplishments.
Givens is on the Indiana Repertory Theatre board. She formerly served on the board of United Way of Central Indiana and remains on its investment and endowment committee.
"Education is a key focus for the United Way," she said, "And when you look at all those statistics for those in poverty—25 percent more likely to drop out, 40 percent more likely to be a teen parent, 70 percent more likely to be arrested—I have a sibling who fits in every category. … I was a beneficiary as a kid. This is my chance to give back."
Givens is also a member of the Harrison College advisory council.
"I think back to my mom and want to let people know that it's never too late to get their degree," she said.•
Please enable JavaScript to view this content.