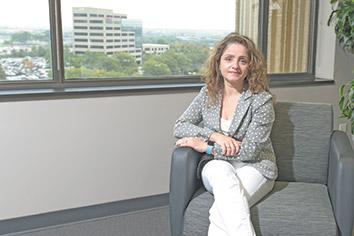 Executive Vice President of Strategy and Products
T2 Systems
When Irena Goloschokin arrived in the United States from St. Petersburg, Russia, as a political refugee in 1989, she brought with her an education degree, experience as a teacher, and an interest in international trade.
"In the Soviet Union, that was a hard profession to go into," she said, "which is why I applied to business school. It was cheaper and faster to get an MBA than go to another four-year school." Shortly after receiving her MBA from Indiana University, she found work with the marketing firm Miller Brooks, which focused primarily on building products, technology and software. She soon caught the "tech bug" and opted to move on to further develop that interest.
The timing was right. T2 Systems, then a small parking management company with a strong tech focus, was looking for a vice president of marketing to help it grow.
"I didn't know parking existed as an industry," she admits. Nonetheless, she took the job in 2001. Within a few years, she found herself ditching an outdated client server application and replacing it with a cloud-based product. "Redeveloping and rolling that out," she said, "was a meaningful and wonderful experience."
Since then, T2 has grown from fewer than 40 employees to more than 250. In addition to a headquarters in Indianapolis, it has a division in Vancouver and home-based employees throughout the United States and Canada. From fewer than 200 clients, the company now boasts more than 1,000, including cities, universities and private companies.
Among the achievements of Goloschokin and her team: overseeing the development and launch of the first cloud-based system in the industry, and being a key player in the mergers and acquisitions that helped the company grow.
"We look for businesses where the current customers will look at it and say, 'This makes sense. You create value for me.'" The 2014 acquisition of Digital Payment Technologies, a Vancouver company, for instance, provided multi-space pay stations key to the T2 business. "We already had about 80 or 90 shared customers so it made perfect sense to unify that into one provider."
The work on an acquisition continues long after the papers are signed. She noted that it's always a challenge trying to blend corporate cultures. "At minimum, you have to understand what kind of culture you are walking into and find ways to make them work together," she said.
Downtime is minimal because she also has helped her husband grow his own business, Copper Mountain Technologies, which provides test and measurement equipment for radio frequency devices used in multiple industries.
She also serves on the board of the International Parking Institute as well as the board of the New World Youth Orchestras.
"It's a personal connection," she said of the latter. Her eldest daughter, a viola player, was involved in the organization. "Even though my daughter has graduated high school, I maintained that connection, joined the board, and try to help provide some marketing direction. They do a wonderful job for the children—my daughter loved being there—and I want to try to do what I can to help."•
Please enable JavaScript to view this content.