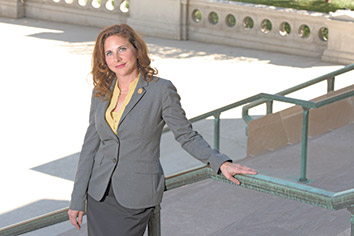 State Representative
House District 87, Indianapolis
Like anyone who has seen "Schoolhouse Rock," state Rep. Christina Hale thought she knew how a bill became a law.
But prior to winning election to the Indiana House in 2012, "I didn't understand how much more there was to it—how much relationships matter and trust matters, how important it is to build both of those things with colleagues on both side of the aisle if you want to get anything done," said Hale, a Democrat from Indianapolis.
Hale is a Purdue graduate and former chief communications officer of Kiwanis International. She worked her way up after taking a job as a reporter for the La Porte Herald Argus as a single mom while in college.
"When I became pregnant at 19, a couple of people very close to me said, 'Face it, game over.' I was afraid I was going to be a loser," Hale said. "But I thought, 'No. I'm not.' I just had this drive."
Selected as a Rotary Ambassadorial Scholar, Hale went with her son to Wales for a year studying foreign policy and traveling around the country speaking about community service. She also launched its worldwide service campaign to eliminate maternal and neonatal tetanus.
That experience paid off when Hale was working for Kiwanis International, where she supported volunteers on projects around the world doing everything from helping adults trying to live independently with autism to building baseball fields for children in wheelchairs.
"I always try to be very mindful that I could be part of solutions," she said. "That's what gets me out of bed in the morning."
When she decided to run for state representative, Hale quit her job as Kiwanis executive director and knocked on a lot of doors.
"I'm not a very creative legislator, but I'm a good listener," she said.
For instance, while it hadn't been on her campaign radar, Hale learned by listening to constituents that there was a home-invasion problem linked to the ease with which stolen jewelry could be sold in the cash-for-gold businesses."
You can walk in with your Aunt Mary's gold locket and sell for cash and they won't ask for any ID," she said. "Even selling scrap metal you have to show ID."
The result: House Bill 1188, which required dealers to hold items at least 10 days after purchasing them from sellers.
It's far from her only cause. She also has pushed the Indiana General Assembly to address child sexual assault. "Indiana has a lot of third-world issues," she said. "I believe we need evidence-based policy."
The sex assault data has proven disturbing. About a third of the time, children are assaulted by someone in their own households, Hale said. About three-quarters of the time, the assault comes from someone they trust. The average age of assault is 9-1/2.
"It's clear that it's happening at home, and we can't always rely on families to deliver critical information or training like we might like to," Hale said.
It's now more profitable to traffic in humans for sex than illegal drugs, she said.
"And less of a hassle," Hale added. "We think of human trafficking as women from Eastern Europe and Asia. But it's also the kids down the street. And our laws aren't adequate for these changes.
"We've been making strides," she said. "This is not acceptable to people on the religious right or the progressives. It's time to set aside reactionary differences and come together. It's everyone's values to protect from these kinds of crimes."•
Please enable JavaScript to view this content.