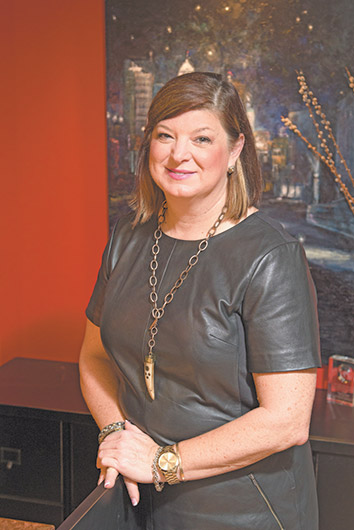 President
Hathaway Strategies
Let's get the name business out of the way first.
For a while, said Anne Hathaway, "People would say, 'I've heard of you,' and I'd say, 'Obviously, you remember your English history.'" (Anne Hathaway, for those who don't, was the wife of William Shakespeare.)
But then a same-named actress became popular, leading to more confusion, culminating in the other Anne Hathaway hosting a fundraiser for Democrat Barack Obama on the same day political powerhouse Anne Hathaway was programming the Republican National Convention.
The upside: "When I'm traveling," said Hathaway, "often times I get really good hotel and dinner reservations."
It helps that honoree Anne Hathaway has made her own name for herself.
Growing up in the tiny town of Galva, Illinois, she remembers hanging around campaign offices and putting bumper stickers on the walls while her mother worked phones as a volunteer.
A misguided guidance counselor told her that politics was a hobby, not a career, and she ended up majoring in interior design at the University of Illinois before finding her calling volunteering for a congressional race.
Eventually, she headed to Washington, where she landed a job at the U.S. Treasury. Wooed away by George H. Bush's campaign manager, James A. Baker, she was assigned to work with the vice presidential nominee—who had not yet been selected.
When Dan Quayle got the nod, Hathaway worked as a scheduler for his wife, Marilyn, and, after the successful election, for the new vice president.
"Every day, you'd drive by the Washington Monument and park in the White House complex and always remember that you were living history," Hathaway said. "The office you were going into was history and how lucky you were to work there. You pinch yourself every day knowing that, if you made a mistake, it was front page, above the fold, in The Washington Post."
After Quayle left office in 1993, Hathaway stayed with him for his book tours, ran his political action committee, and then was asked why she wasn't working for the Republican National Committee by the organization's deputy chair. "You never asked," was her response. Soon, she was—first as regional political director, then chief of staff for the RNC, helping raise a then-record $400 million-plus.
She returned to Indianapolis in 2009 having no idea what she was going to do, but one project led to another and a friend told her she needed to form her own business, which led to Hathaway Strategies.
What was once a one-woman shop operated out of her home has grown into a staff, offices and clients on the state and national level. But she still takes time out to serve the Republican Party when called, such as when she took the reins as program director for the 2012 Republican National Convention in Tampa.
So much time spent on various campaign trails limits her availability for board work. Nonetheless, Hathaway serves on the board and as development committee chairwoman for the Julian Center and on the board of Stand for Children. She is executive director of the Richard G. Lugar Excellence in Public Service Series, a women's political leadership program. And she serves as treasurer of the Hoosiers for Quality Education PAC and serves on the 4-H House Alumni Board for her alma mater, the University of Illinois.
"I have a tendency when I do anything," Hathaway said, "to get very involved."•
Please enable JavaScript to view this content.