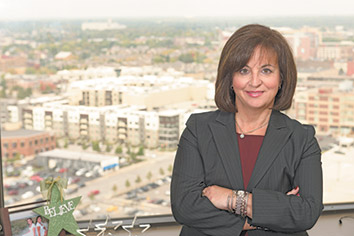 Vice President of Global Technology
Vertellus Specialties
Growing up in Pittsburgh, Linda Hicks was encouraged by her engineer father to go into the same field.
"He was also big on making sure my sisters and I could support ourselves because we liked to spend money," said Hicks, who earned a chemical engineering degree from Grove City College in Pennsylvania before joining what's now known as Vertellus Specialties, a chemical company that generates more than $750 million in annual sales from more than 700 products.
Hicks started as a process engineer at the company, known as Reilly Industries before a 2006 merger. Now vice president of global technology, she oversees corporate engineering, corporate research and development, global quality and process safety. It's not strictly a desk job—Hicks has a passport stamped with frequent trips to China, where she is overseeing the building of a chemical plant.
"It was an international job from the day I started," she said. Though she doesn't speak Mandarin Chinese, "I know how to say 'fried rice,'" she said, "because that's what I like to eat when over there." As to her frequent-flier miles: "I fly my mother here quite a bit from Pittsburgh."
Hicks has been influential in connecting Vertellus with research universities and in developing relationships with contract research organizations in India and China to increase the pipeline of new products.
This is how Hicks describes her job: "We take chemistry from the lab bench into something that provides commercial value."
When she's considering individuals to join her team, "Certainly, I look for tech acumen. But aside from that, I look for people who have a real passion about what they are doing, have a real energy around learning, and aren't afraid to ask questions," she said. "They can move more quickly on the learning curve by asking good questions and doing their own research."
She added: "I like people who give it their all."
Hicks finds the field more receptive to women than it was when she entered it 31 years ago, "but it still has further to go." She noted: "I find that a lot of young girls are still intimidated by math and science careers."
That's one reason Hicks dedicates time and energy to Girls Inc.
"When I was faced with being an empty-nester," she said, "I looked for opportunities to get more involved and decided to volunteer." She's now risen to board chairwoman.
"There's a lot of activity going on at the college level," she said, "but I find that the message doesn't necessarily get to the elementary, middle and high schools, particularly in the inner city. We all need to reach out to IPS and charter schools to get more kids understanding the opportunities in STEM-related fields."
Her overriding goal at Girls Inc. is to make sure the organization is sustainable.
"There's a waiting list of schools that would like to be part of the programming, and we're always looking for enough funding to do all that we need to do," she said.•
Please enable JavaScript to view this content.