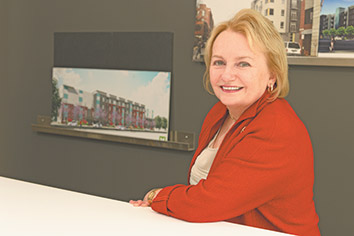 President
Milhaus Management
Combine a bachelor's degree in chemistry with a master's degree in education and what do you get?
In the case of Alexandra Jackiw, you get a real estate leader whose company has grown its portfolio of residential units from 250 to 6,000 since she joined in 2014.
"I spent a short period of time trying to be a chemist," she said. "But I decided that test tubes were a little bit boring. So I went back to school, where I was encouraged to go into university administration. Getting out of grad school in the middle of an economic recession didn't offer a lot of opportunities."
Staying flexible, she landed a grant-writing position for the West Indiana Economic Development District in Terre Haute. A grant she wrote was funded, and Jackiw was offered a job as the first executive director of a day facility for the elderly. Experience earned there led her to become manager of a group of public housing projects.
"My mission was to make the need for public housing unnecessary in the lives of people living there," she said, "to help them right themselves independently and socially to get out of public housing."
Then, she said, "I wanted to see what the private sector had to offer." That curiosity—and a blind ad in the newspaper—led her to Oxford Management Co. and work with a series of companies and organizations, culminating in the position as president (in a deal mapped out on the back of a napkin) at Milhaus Management, the property management arm of Indianapolis-based apartment developer Milhaus.
Along the way, she served as chairwoman of the board of the National Apartment Association.
"One thing I learned is that people value their homes," she said. "We meet a very basic human need, whether in the public or private sphere. I take that very seriously."
Jackiw has mentored hundreds through associations with Ball State University, Virginia Tech, and Drexel University residential property management programs. She served on the maintenance fund committee of the United Way of Central Indiana and helped develop training on facility management for United Way agency executive directors.
She's thrilled at the growth of downtown and the role of Milhaus, one of the most aggressive apartment developers in Indianapolis, in that evolution.
"People have an interest in living in the urban core and enjoying the city. I'm not a native Hoosier, but Indy has been home for 30 years and sometimes I think I'm prouder of it than people who were born and raised here. The housing community has [done] a lot to help create such a vibrant downtown."
Making those Milhaus properties more appealing is a big part of her job. And that means constantly learning. "There are a number of communities built around huge clubhouses," she said. "They are expensive to build and aren't necessarily utilized by a large percentage of those living on the property."
At Circa—a development in the Chatham Arch district of downtown—Milhaus added what it called a Maker's Room outfitted with tools, a workbench and a sewing machine.
"It's for people who downsized but still want to pot plants or fix a bike," Jackiw said. "It lets you bring a piece of home into a multifamily environment and continue with activities you love."•
Please enable JavaScript to view this content.