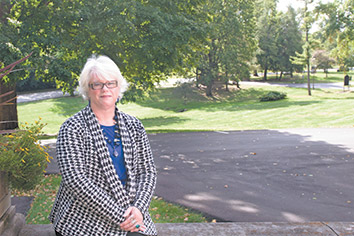 Vice President for Administration, General Counsel
Marian University
After working for the state and in private practice with law firms, it didn't take long for Deborah Lawrence to readjust to academia when she joined Marian University in 2002.
"I thought I would enjoy the environment of intellectual curiosity," Lawrence said. "I don't want to imply that a law firm isn't, but this goes deeper because you can see the direct impact on students."
Coming on board as a grant writer, Lawrence arrived in the midst of a serious rebuilding and repositioning period at the university.
"We were trying to do something above our weight class," she said. "Everyone was asked to really jump in."
She quickly became involved in creating new programs and winning grants, helping the school become more successful and improve its image.
Today, Lawrence said, "Literally, the physical plant, our position in the community, and the number of people on campus are completely different."
Changes have included the reclamation, restoration and development of the Nina Mason Pulliam EcoLab, including the development of a trail system and year-round programming for pre-K-12 students; the merger of the Ruth Lilly Health Education Center with Marian University; and a partnership with St. Vincent Health with a multi-year, multimillion-dollar gift to underwrite the Indy Cycloplex, the Lilly Health Center, and Marian University athletics.
Lawrence, who moved into her current role as general counsel and vice president for administration in 2008, spends a lot of her time at community meetings, trying to better understand the needs of the neighborhood and the city.
"If I find out there's a business that wants to get started and doesn't have all the tools, I may come back with a student project. It could be an internship," Lawrence said. "What can we have that takes us out into the community to help accomplish their goals?"
One of the most visible community assets of Marian is the Indy Cycloplex/Lake Sullivan Sports Complex, which includes the Major Taylor Velodrome.
The cycling team had been using the facility since 1992, but it desperately needed new investment.
Recognizing that management of the city-owned facility would allow the university to make critical capital investments, she encouraged school leadership to bid for the lease and worked with its executive director to secure resources to restore it and develop programs.
Since taking over management in 2011, the facility has added a mountain bike track, the Marian cycling team has grown to more than 70 riders, and the neighborhood has an asset to be proud of. The project, Lawrence said, "opened up our minds to our role as an anchor."
Lawrence is a former director of community relations for the Indiana Department of Natural Resources. She also is a past president and past director of the League of Women Voters of Indianapolis.
She currently serves as a member of the event planning committee of the Northwest Area Quality of Life Plan, the Work Indy Committee for Plan 2020, and others.
"I'm not a board member who just shows up for six meetings a year," she said. "It has to be something I'm passionate about and something where I bring something to the table that can help them do what they need to get done."•
Please enable JavaScript to view this content.