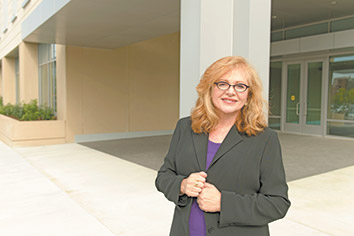 Vice President for Development for the Indianapolis Campus
Indiana University Foundation
Fundraising is less about asking for money and more about building relationships, said Dee Metaj, who led the most successful campaign in Indiana University history and isn't resting on those laurels.
The seven-year IUPUI Impact campaign, whose run extended through the recession, not only exceeded its $1.25 billion goal by $144 million, it also concluded three months early.
Metaj said there's no secret to her fundraising success.
"We do a lot of work on the front end determining what the funders' priorities are and where the institution matches that," Metaj said. "There's a ton of legwork. By the time you submit a proposal, you should have a better than 50 percent chance of getting [the donation]."
She added: "Part of the job is knowing where the opportunities are for support. What are the opportunities that advance the academic research mission and teaching mission of the institution? It's doing your homework, not just reading what they write in their reports."
A Michigan State University graduate, Metaj took her first post-college job with the state of Michigan, working with emotionally impaired children at a residential treatment center.
"I was going to be a pediatrician," she said, but with a debt load to pay off, she couldn't go directly to medical school.
Instead, her career path took her to development positions at Oregon Health & Science University Foundation before she landed at IU in 2010.
It would be a trial by fire. The public phase of the Impact campaign launched just two weeks after Metaj moved into her office.
"I was scared," she admitted.
But her fear turned into success.
"I knew how much had to be raised. I asked the right questions. And I took the job knowing it was going to have to be."
Her goal wasn't just to raise money, but to "broaden our donor pool. We had to find new donors, not just go back to the same well. By doing so, you position the institution for the next campaign."
The next campaign is already here. The university-wide, $2.5 billion Bicentennial Campaign, launched in September, is targeted to wrap up on the last day of 2019. Its priorities: Create the next generation of global leaders; recruit and retain the best and most creative faculty who will lead the discoveries and innovations that transform how we live; and create a healthier state, nation and world.
Before moving to Indianapolis, Metaj served as a mentor for Big Brothers Big Sisters and patient ambassador at OHSU hospital. While the foundation job initially occupied much of her time, she has since found time to serve as ambassador with United Way of Central Indiana—encouraging, of course, philanthropy. She also adopts a family each year through Season of Giving at IUPUI.
"Now is the time when I'm actually looking forward to figuring out in what ways I can be a more integral member of this community. I've declined some offers in the past only because I want to make sure I can do what I promise to do. This is my year to really broaden my volunteer capacity."•
Please enable JavaScript to view this content.