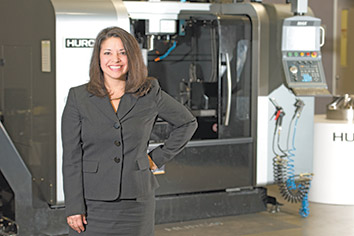 Chief Financial Officer, Vice President, Secretary and Treasurer
Hurco Companies Inc.
Even after 19 years at the same company, Sonja McClelland said, "I feel like I'm still learning. I want to be a contributor. That's what motivates me."
From corporate accounting manager to CFO—with stops at North American controller and corporate controller in between—McClelland feels fortunate to have worked with one company for so long.
"I have friends in and out of different industries. They know about strategy, but not the details," she observed.
When McClelland came to Hurco in 1996, the company had less than $100 million in revenue. It was trying to repay $30 million in debt and had accumulated losses for the previous four fiscal years of almost $32 million. By 2008, the company broke the $200 million revenue mark and recorded record net income of $23 million. "Today," she said, "the company is stronger than it has ever been."
"Now," she said, "we're thinking even bigger. We want to be at a half-billion—or a billion someday. Our culture is to grow the top line but not at the cost of the bottom line. We have to be responsible to shareholders."
As a result of her long relationship with Hurco, "I've done a lot of the jobs of the people I'm working with. I understand what they are doing, the time it takes to do the job."
She added: "I always say, 'Instead of spinning your wheels trying to learn [by] yourself and not getting it done, ask.'"
The Muncie native credits high school sports with teaching her about hard work and being part of a team.
An academic scholarship to Ball State University allowed her to live at home while attending school and working at a local bank.
"I got to see the business side of things," she said. "And I knew I wanted to be in the financial field."
She received a Ball State accounting degree, which landed her a job at the CPA firm Arthur Andersen LLP. She called her 3-1/2 years there "fabulous."
"I did it originally because I knew I had to get my public accounting service in to get my CPA, but public accounting gives you such a good way to learn communication skills, time management and how to manage clients. It's invaluable."
It was a leap of faith leaving Arthur Andersen for Hurco, given its debt and losses. A mentor asked of her job switch: "Why would you want to do that?"
She was convinced, though, that Hurco had great products, and she trusted her new co-workers to right the company.
Now, as the first female executive at Hurco, she's helping drive more dramatic change.
In the last three years, Hurco has made a series of key acquisitions, including Italian electro-mechanical component manufacturer LCM Srl and Taiwan-based machining tool designer/manufacturer Takumi Manufacturing Ltd.
Outside of Hurco, her volunteer work for Dress for Success Indianapolis led her to join the board, where she served six years.
"My mother was a single working mother," she said. "I watched her struggle trying to raise kids and put food on the table. Lots of women are challenged with that today, living paycheck to paycheck or in poverty. It's an amazing organization. I've watched the impact it's had on these ladies."•
Please enable JavaScript to view this content.