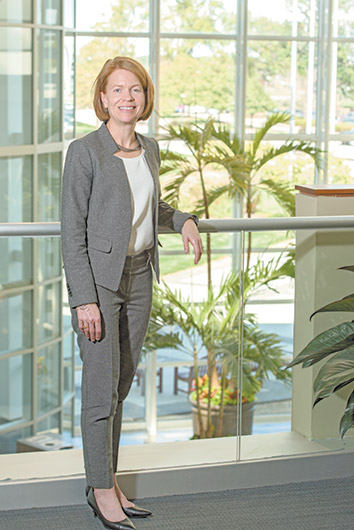 R&D Director, Product Development
Dow AgroSciences
Roberta Ressler and her team have a fairly immodest goal: to better feed the world.
"We know we are providing tools for farmers around the world to solve problems of hunger and food security," said Ressler, who leads 130 researchers in designing and inventing products that enable growers around the world to combat weeds, insects and crop disease. "For me, it's about having a higher purpose in business, which is highly motivating."
While majoring in chemical engineering at Purdue University, Ressler landed a co-op spot at the Amoco (now BP) research center near Chicago. "It was very hands-on," she recalled. "A great way to get an introduction to the field."
After graduation, she joined Dow Chemical in Midland, Michigan, as a production engineer. There, she co-developed proprietary technology (later presented to the American Institute of Chemical Engineers). She also championed safe operations and implemented chemical process improvements that translated into hundreds of thousands of dollars in savings on raw materials.
After a stint with Cargill Dow (now NatureWorks LLC) in Nebraska—where she participated in the startup of a 300-million-pound-per-year biopolymer facility—the Fort Wayne native returned to her home state in 2002 to join Dow AgroSciences.
In a series of positions with the company, she led the design and implementation of the quality organization for the then-launching seeds business, including implementing processes for maintaining regulatory compliance. In 2011, she gained support from senior leadership to move her team to Purdue Research Park in West Lafayette, where Dow AgroSciences created 30 jobs. The new Seed Quality Control Lab included a tour path with educational feature walls to let students and other visitors witness the painstaking work.
Ressler now leads product development for crop protection, an R&D department with labs in North America, Latin America, Europe and Asia/Pacific.
"The challenge," she said, "is to make new formulations of insecticides, herbicides and fungicides that are more environmentally friendly and easier for farmers to handle."
And the needs can differ from region to region. In India, China and Southeast Asia, she said, "farmers usually have a small plot of land and there's a lot of manual labor. When formulating, it has to be delivered in a small tank on a backpack sprayer." In the United States, on the other hand, thousand-acre, highly mechanized farms are more the norm.
Building an effective team is key, Ressler said. In hiring, she said, "I'm always looking for a candidate who possesses the minimum requirements but has also demonstrated the ability to learn—who shows initiative. They have to be able to learn what farmers really need—how to put together formulations that will solve problems for our customers."
She gives great import to leadership development.
"It doesn't just start when you are named supervisor," she said. "I encourage our leaders to teach leadership skills to everyone. Every time you teach something, you learn from it."
As a member of the Purdue-Dow AgroSciences Joint Steering Team, she partnered with the School of Engineering to explore collaborations and research opportunities to strengthen the bond between the university and the company.•
Please enable JavaScript to view this content.