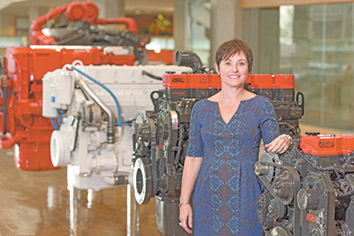 Vice President
Chief Administrative Officer, Cummins Inc.
Stretching into more than 190 countries through a network of 600 company-owned and independent distribution facilities and more than 7,200 dealers, Columbus-based engine company Cummins Inc. has long been one of the biggest players in the Indiana business community.
So when its chief administrative officer talks, people listen.
And Marya Rose is the one doing the talking. She led Cummins' stand against the state's controversial Religious Freedom Restoration Act, making the company one of the state's first to do so. She was the voice of Cummins at legislative hearings and the Indiana General Assembly, speaking out against the bill early this year.
Her commitment to the issues goes deeper, though. A year earlier, she testified against a proposed amendment to the Indiana Constitution banning same-sex marriage and helped Cummins lobby in 2012 against a similar ban in Minnesota. She fought a similar fight against California's Proposition 8, a statewide ballot initiative to make same-sex marriage illegal.
A native Hoosier and the daughter of two lawyers, Rose graduated from Williams College, then moved to Washington, D.C., and Los Angeles. "I honestly never intended to come back to Indiana," she said.
But she wanted to go to law school and ended up at the IU Robert H. McKinney School of Law in Indianapolis—"My husband went to Bloomington, which he always tells me is the superior school," she quipped—and became an attorney with Bose McKinney & Evans.
"I thought that's what I wanted," she said, "but I'm a pretty social person. Working solitary in my office with depositions didn't turn out to be the most exciting thing."
Her restlessness led to work as assistant general counsel with the Indiana Family and Social Services Administration and then as senior aide to former Govs. Evan Bayh and Frank O'Bannon. Eventually, a former co-worker, now at Cummins, lured her to Columbus.
Initially skeptical of the idea, she was convinced by the "wonderful people and the values of the company." She worked her way up to general counsel and took over the chief administrative officer job in 2011. "I didn't think that corporate America would be someplace I could thrive in and express my values in and be an advocate for the things that are important to me. But it's just been fantastic."
Among her achievements: Spearheading the launch of Unified Communications & Collaboration, an initiative designed to tie all of Cummins' communications capabilities into one integrated platform to foster innovation, empower employees and improve productivity. She transformed Cummins' legal organization from 15 decentralized lawyers to more than 60 lawyers, paralegals and other professionals around the world. 
Outside Cummins, she serves as board chairwoman for Planned Parenthood of Indiana and Kentucky.
"I've been a supporter my entire life," she said, "and I finally asked to be put on the board." Of course, it's a volatile time for that organization. The idea that Planned Parenthood "would be defunded doesn't make sense," she said. "There are not the resources and clinics available in the country and across Indiana to take on that load of patients."
And as the leader of the Corporate Local Diversity Council, she has been a champion for inclusion.
"I'm really proud of the work we've done on civil rights issues," she said. Rose has personally recruited people who, she said, "I think are talented but that might not otherwise be viewed as someone who would thrive at Cummins."•
Please enable JavaScript to view this content.