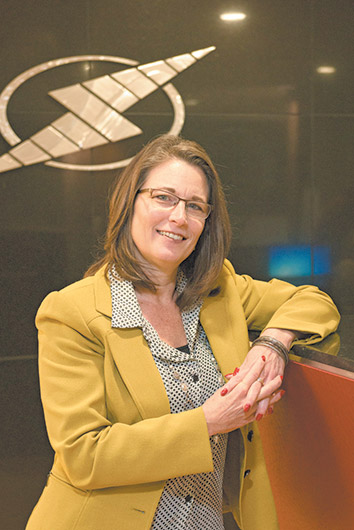 President
Synthesis Inc.
After graduating from Ball State University, Jenelle Smagala spent a decade working for architectural firms, developing her own aesthetic and approach to business. But in 1998, she decided to take a leap of faith and head out on her own.
"If it didn't work," she figured, "I could always go back to work in a more traditional manner."
She had more than guts. She had an idea—a nontraditional approach that involved bringing engineers, contractors and others into the design-build phase early on instead of treating them simply as vendors.
"If you collaborate with people," she said, "give them the opportunity to have a voice, tap into each stakeholder for their expertise, and they are pleased to be incorporated and heard."
Smagala set up shop out of her bedroom but soon realized that not having a professional presence would be a hindrance. So she started looking at real estate, setting up a logo and letterhead, designing her offices, and creating a market presence in the day while working on client projects at night.
"The first time my friends stopped by," she recalled, "I was sitting in a 5,000-square-foot office by myself with nothing. It was nuts."
Soon, though, the office was bustling. Within its first four years, Synthesis Inc. had booked projects totaling more than $20 million.
Synthesis has designed spaces for Eli Lilly and Co., The Children's Museum of Indianapolis, Purdue University, Indianapolis International Airport, Indiana University Health, the city of Indianapolis, Eskenazi Health, and more. It received an Excellence in Architecture Citation Award from the American Institute of Architects Indiana for its work on the INDOT Fort Wayne Administration Building. It also received eight design awards for Juan Solomon Park on Grandview Drive in Indianapolis.
More important to her than the awards, though, is the repeat business and what it says about client satisfaction. She has handled multiple projects for more than 90 percent of her clients.
A self-described farm girl from outside of Muncie, Smagala grew up loving both math and the arts. High school drafting classes—which she had to fight to get into because of her gender—led her to put the two skills and passions together.
"Art and math really is the combination that is architecture," she said.
A Ball State honors program for high school students sealed the deal. That two-week program, she said, "showed me that it's not just drafting and drawing. It's solving problems. It's looking at a puzzle and figuring out a solution."
College was an easy choice.
"I felt like, why should I travel away from home when what I needed was right in my back yard?" she said of her choice of Ball State. "Plus, so many programs focus on a particular kind of design. [Ball State teaches] the creative process."
Smagala has been a member of the AIA Indiana board since 2008 and currently is its president, a job that has included leading the merger of four regional chapters into one statewide organization. She served on the board of WFYI Channel 20 from 2008-2014 and has been a member of the Indiana Construction Roundtable and numerous other committees.
In memory of her late husband, she created Majik + Kids, an organization providing grants to local not-for-profits for projects focused on children's education revolving around the arts, science or architecture.•
Please enable JavaScript to view this content.