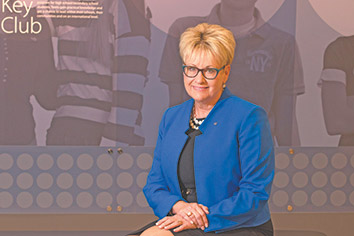 Chief Operating Officer
Kiwanis International Foundation
Kiwanis International has a history of thinking big, and the Eliminate Project is no exception.
Its goal: Raise $110 million to eliminate maternal and neonatal tetanus by helping immunize all at-risk women in the world against a disease that kills a baby every 11 minutes and a woman every 20 minutes.
"It's one of those scandals in global health," said Ann Updegraff Spleth, chief operating officer for the Kiwanis International Foundation. "There's been a cure for a long time—85 years—but it hasn't reached all parts of the globe."
Spleth and the Indianapolis-based Kiwanis Foundation are tasked with finding that money.
"We're at about $102.7 million," said Spleth, who wants to be finished by the end of 2015. She believes that's doable.
"This is the race to the finish, and we've been able to build a staff of extraordinarily passionate people to motivate 6,000 volunteers all over the world."
She found one $1 million donor, but the rest of the money has come in smaller batches, including cash from individuals and clubs raising money through bake sales and golf tournaments. "It's hardcore grassroots," she said, "and that's what's so extraordinary."
And that's not all Spleth has done at the foundation. Her history of success includes doubling the foundation's reserves to $15.5 million and boosting its rating on Charity Navigator from zero to 3.88 (on a 4-point scale). "It took a couple of years," she said, "but now, in my fifth year, we could get up to 4." Since she joined the foundation in 2011, grant making has increased 300 percent.
An ordained minister, Spleth still remembers, at age 5, standing up on a table at the Florida church her father pastored and making her first fundraising pitch. "I said, 'I pledge 25 cents a week for god's church.'"
Spleth came to Indianapolis in 1990 to serve as president of the Homeland Ministries division of the Christian Church (Disciples of Christ). In that position, she came to appreciate the need for office efficiency, conducting a massive institutional audit and reorganizing a half-century-old system.
As director of planned giving for Goodwill Industries of Central Indiana, she doubled the growth rate of legacy fund membership in the first year and helped create the Little Black Dress Ball fundraising event. And as vice president for external relations for the Christian Theological Seminary, her accomplishments included creating a fundraising plan that yielded $1.5 million, forging partnerships with arts organizations, and leading multiple events for the school's 50th anniversary.
She brought those skills and experiences to the Kiwanis International Foundation when she took the job as its seventh COO in 10 years. "The first task was to get the foundation strong enough to do what the larger organization was asking us to do," she said.
"What's really important to me is transformation," she said. "One of the popular images is that we are like car salesmen—we talk people into doing what they don't want to do. But that's the most incorrect thing. We give people the opportunity to do what they always wanted to do. The unifying factor is that philanthropy gives people an opportunity to change the world and make it better.
"Our responsibility is to help people find what their passion is—where their hearts want to transform the world," Spleth said. "Sometimes that's with us, sometimes that's somewhere else."•
Please enable JavaScript to view this content.