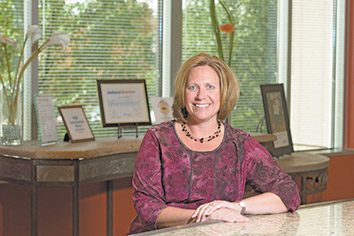 Chief Financial Officer
Interactive Intelligence Group
Ashley Vukovits was "a little hesitant" when she joined Interactive Intelligence Group in 2003.
"The thing that concerned me most was that I had no software experience," she said.
It was right after the tech bubble and, given the amount of tech crashes, she wondered about the company's viability. "What I really liked, though, is that we were a small company around giants. We were holding our own and doing pretty well.
"When I looked at the analyst reports, the clear, overriding factor was that this little company had really good software and a good product."
She wisely took the chance.
During her tenure, the company has grown from 300 employees to 2,100, and its revenue has shot from $50 million to $340 million. The company now sells in more than 100 countries.
Vukovits rose to chief financial officer in 2015, which makes her responsible for global financial planning, accounting and reporting, human resources, information technology, and risk management. Her achievements include managing a $150 million convertible debt offering to raise funds to support Interactive Intelligence's market shift from on-premises software sales to a cloud-based solution. The offering also provided capital for mergers and acquisitions.
Originally from Ohio, Vukovits recalls sitting at the bookkeeper's desk at her father's construction company and pretending to be on the job. "I liked numbers and was good at math," she said. "I knew since high school I wanted to do something with accounting."
She double-majored in accounting and finance at Miami University in Ohio. Wanting to be away but not too far from home, she landed in Indianapolis at KPMG, where she served as an audit associate. She left to serve as vice president of finance with the auto finance firm Union Acceptance Corp. before moving on to Interactive Intelligence.
Vukovits joined the advisory council for Informatics: Diversity-Enhanced Workforce, an initiative within the IU School of Informatics and Computing. The IUPUI program introduces computing concepts and problem solving to high school students. "Students start the program as freshman," she said, "and we'll be with them through all four years, hoping to add a new grade every year."
She also helped launch the Interactive Intelligence Foundation, a not-for-profit committed to improving the lives of at-risk children through 10 charities around the world. Interactive Intelligence was always charitable, she said, but previously giving back was done in "a haphazard manner," she said.
"There was some connection through a vendor or an employee or the president," she said. "I wanted to see it get more focus—and to get more employees involved." Vukovits serves as the foundation's treasurer.
She's also a volunteer with the Julian Center in Indianapolis and is involved at Holy Spirit at Geist Catholic Church. She started there as a classroom volunteer when her children were young.
"It was not only fun to be a part of their experience, but it also helped me learn more about the church," she said. "As they got older, I became a Eucharistic minister there."•
Please enable JavaScript to view this content.