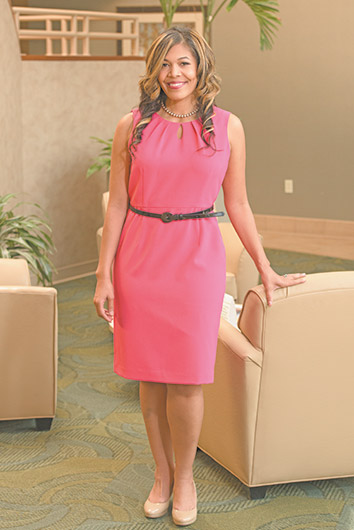 Executive Director of Sports Medicine, Physical Therapy and Rehabilitation
Community Health Network
Nichole Wilson joined Community Health Network in 2005 as a physical therapist and athletic trainer and was promoted to clinic manager after she completed her doctorate degree. But that wasn't enough.
"Within the first few years of my career, I knew I wanted to do more," she said, an ambition that helped elevate her to director of the entire division.
Under her watch, six clinical sites grew to 18 through acquisitions and internal expansion. Previously nonexistent weekend hours were added to the offerings, specialty therapy services were increased, and wait times plummeted from two weeks to two days or less. As a result, patient satisfaction scores reached an all-time high and revenue grew 127 percent.
In a remarkably short time, she helped put Community Health Network on the sports medicine map. Clients now include Indy Eleven and Sarah Fisher Hartman Racing.
Wilson's interest in health care started early. "I have an aunt who is a nurse, and so growing up I always volunteered at the physician's office where she worked," Wilson said. A cheerleading ankle injury put her in therapy but at the time, "I didn't take it seriously and it got worse and worse." In college, she needed ankle reconstruction and she "fell in love with the field."
When Wilson joined Community Health Network, she was working on her clinical doctorate from the University of Indianapolis. She did her undergraduate work at DePauw University, majoring in sports medicine.
The education and therapy experience paid off when her boss at Community Health called asking "Do you know anything about sports medicine? We want to go into that market. Do you think you can help us build it?"
She said yes, but pointed out what needed to come with it—getting different types of physicians into the network and other changes. "If we can have those things," she said, "I'm happy to help."
Community Health started getting contracts even before the infrastructure was built. "Once the contracts start coming in, you have to start providing services," she said. "We did a lot of hiring, a lot of meetings with athletic directors and coaches to see what the needs were, a lot of building of policies and procedures, and a lot of meeting with physicians to find out who wanted to be part of the team."
On top of that, a concussion program had to be built from scratch.
"I don't think I slept in those three years," she said. But she's plenty busy outside work too.
Wilson sees her efforts in the community "like a second job."
"I love it," she said. "It's a part of my life." She serves on the boards of the Indianapolis Public Safety Foundation, the Women's Fund of Central Indiana, College Mentors for Kids, the Madame Walker Theatre Center, and more.
She's also an active mentor, paying particular attention to those young professionals on the far side of the opportunity gap. "Those who have access to better schools and their unique opportunities tend to be the ones I don't need to mentor as much," she said. "I like to focus on those who need a positive mentor in their lives."•
Please enable JavaScript to view this content.