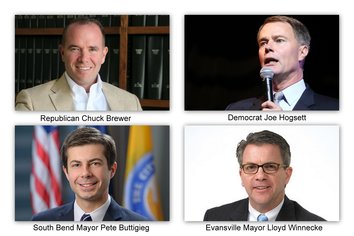 Voters in cities across Indiana will select mayors and council members in this week's upcoming municipal elections.
Indianapolis will have a new mayor come Jan. 1 as two-term Republican Mayor Greg Ballard decided to not seek re-election as leader of the state's largest city. The next two largest cities — Fort Wayne and Evansville — have incumbent mayors facing prominent challengers.
Stemming from the statewide property tax caps set in 2008, many cities have faced budget crunches in trying to pay for services, such as adding police officers or making street repairs. Leaders' responses to those problems, as well as dealing with issues such as whether to extend local anti-discrimination ordinances to include sexual orientation, could influence Tuesday's elections, the 2016 legislative session and the gubernatorial campaign.
Here are some things to know about Indiana's mayoral races:
Capital city
Democratic candidate Joe Hogsett has campaigned as a front-runner, following his prominent role as Indianapolis' former top federal prosecutor and his time as Indiana's secretary of state. He faces Republican Chuck Brewer, a restaurant owner and first-time political candidate.
Both candidates say they would shift the city's economic development focus from downtown to outlying neighborhoods and seek an additional 150 police officers to combat crime; shooting incidents are up about 20 percent from last year. Hogsett has touted spending cuts he made during his four years as U.S. attorney, while Brewer points to his background as a Marine Corps Reserve colonel and has tried to label Hogsett as a career politician.
Hogsett has a huge fundraising advantage, allowing him to spend heavily on television ads. That's left Republicans hoping for a repeat of Ballard's 2007 upset victory over Democratic Mayor Bart Peterson. Expected low voter turnout could play a role.
Big competition
Fort Wayne Democratic Mayor Tom Henry is seeking a third term leading the state's second-largest city and is being challenged by Republican City Councilman Mitch Harper. Henry's campaign touts the city's unemployment rate dropping by nearly two-thirds to 4.2 percent since he took office and continued downtown development projects. Harper criticizes what he calls a crony culture within city government, but business groups have endorsed Henry.
In Evansville, Republican Lloyd Winnecke is up for re-election as mayor against Democratic state Rep. Gail Riecken. Winnecke highlights two major downtown projects he's backed — a medical school complex involving Indiana University and a new hotel to help attract conventions. Democrats have questioned Winnecke's knowledge about a police investigation of a GOP city council candidate who this month admitted to having a sexual relationship with a student while he was a high school teacher in the 1970s.
Name recognition
The older brother of Basketball Hall of Famer Larry Bird, Mark Bird, is the Democratic candidate for mayor of Terre Haute. The Vigo County Council member is challenging two-term Republican Mayor Duke Bennett, with whom Bird has clashed over Bennett's financial leadership of the city that faces a multimillion-dollar general fund deficit.
Meanwhile, former congressman Lee Hamilton's nephew, John Hamilton, is on the ballot in Bloomington as the Democratic nominee. The former top aide to ex-Gov. Frank O'Bannon faces Republican John Turnbull, a city parks department manager, in the heavily Democratic city. Three-term Democratic Mayor Mark Kruzan didn't seek re-election.
A seemingly clear path
South Bend Mayor Pete Buttigieg is facing voters for the first time since he came out as gay in June. The Democrat's announcement has drawn scant discussion as he seeks a second term. He's being challenged by Republican Kelly Jones, a little-known jewelry maker.
Carmel Republican Mayor James Brainard gained attention this summer when pushed for the affluent Indianapolis suburb to add sexual orientation and gender identity to its anti-discrimination ordinance following the uproar over the state's religious objections law. Brainard is unopposed for a sixth term.
Please enable JavaScript to view this content.