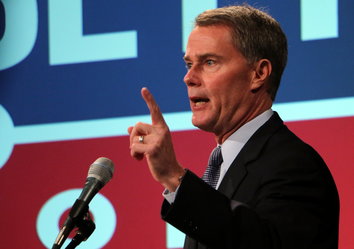 Joe Hogsett, basking in his commanding election victory, told a crowd of supporters Tuesday he wouldn't waste any time in getting to work as Indianapolis' next mayor.
"It begins tomorrow," Hogsett said before walking off the stage at a party thrown in his honor at Indianapolis' Crowne Plaza hotel.
The former U.S. attorney and secretary of state—and a longtime player in Indiana Democratic politics—has received one vote of confidence after the other recently: He racked up more than 1,200 campaign contributions totaling about $4 million before easily beating his opponent, Republican Chuck Brewer, in Tuesday's mayoral election.
He won with about 62 percent of the vote; Brewer had about 38 percent of the vote. He earned endorsements from the Indy Chamber, the Indianapolis police and fire unions, and unions representing municipal employees.
About 22.7 percent, or 150,450, of Marion County's registered voters turned out for the election, the lowest showing in more than two decades. 
But to neighborhood association leader Cathy Burton, Hogsett is still starting off with a lot to prove to the average Indianapolis resident who is concerned about rising crime, education issues and ensuring the city can pay for basic services.
"He's a name people know, but I don't really know that people who live in the neighborhoods have any real first-hand experience with how he handles himself in a public office," said Burton, president of the Marion County Alliance of Neighborhood Associations. "From that standpoint he's kind of starting with a clean slate."
Hogsett made countless policy proposals on the campaign trail since launching his bid to run for mayor last year.
Now it's time for him to act.
Tackling crime first priority
Improving public safety in Indianapolis was a central election issue this fall. Hogsett said his background as a U.S. attorney positions him as a natural leader on the issue.
Hogsett has said he wants to hire 150 more police officers, end a 30-year moratorium on streetlights to brighten up unsafe areas of the city, and would seek to put a new focus on community policing and criminal re-entry.
He's also focused on prevention strategies. Besides supporting a previously passed city preschool program, he also wants to create a summer jobs program next summer to keep young adults busy during what has previously been a high-crime period.
Troy Riggs, Ballard's former public safety director who stepped down earlier this year to take a job leading public safety outreach at the Indiana University Public Policy Institute, said he has "no doubt" Hogsett understands the key issues the city faces.
"He understands the systemic issues that are leading to crime and degradation," Riggs said. "He has a perspective of what has worked nationally and what hasn't worked. He's certainly done his homework and understands the financial issues."
 One key financial issue will be paying for 150 new officers in a department that's already cash-strapped. Riggs estimated that would cost about $18 million.
"That's one of the challenges the new mayor is going to face: the sustainability of (our) current number of public safety employees … when there's a structural deficit," Riggs said.
City finances 'should be' first priority
That's just one of the financial challenges Hogsett will be confronted with once he takes office.
The city has been eating away at its dwindling reserves. The recently passed $1.1 billion Indianapolis budget spends more than the city and county will earn in revenue. And competing spending priorities—public safety chief among them—are growing.
"I think the fiscal situation is the city's top priority—or should be the city's top priority," said John Ketzenberger, president of the Indiana Fiscal Policy Institute. "It's got a lot going for it, but it's got very serious financial challenges. The council and the mayor need to have those discussions in a way that looks forward so there are ways to sustainably maintain the momentum that the city has."
Hogsett told IBJ that immediately upon taking office, he would seek to do a "top to bottom audit of city spending" to get a better handle on the city's financial position.
"Ultimately, my default position would always be to not spend down reserves or raise taxes when fair or reasonable alternatives may exist," Hogsett said. "We owe it to taxpayers to squeeze every efficiency."
Ketzenberger said he thinks Hogsett "has the potential to be a very good mayor" when it comes to his new responsibility to shape the city's financial future.
"He's an interesting, complex and smart person," Ketzenberger said. "I hope he takes an inclusive approach and realizes that if the fiscal house is not in order that everything else is at risk."
'An activist mayor' on education?
Education wasn't mentioned much on the campaign trail, but it's a large responsibility of the Indianapolis mayor. Hogsett will become one of the only mayors of a large city who has a direct role in overseeing education as he supervises a portfolio of mayor-sponsored charter schools.
And city leaders say they agree the mayor should play a larger role in improving education here because of its impact on public safety and economic development issues.
David Harris, CEO of The Mind Trust, said he expects Hogsett to have "a prominent and visible role" in shaping education.
"I know that Joe is committed to improving our public education system, that he believes it's important that every child have the opportunity to attend a great school and that our city's health is inextricably linked to the quality of our schools," Harris said. "He's looking to be an activist mayor who's going to be aggressive."
Harris said Hogsett will also likely play a larger role in working with Indianapolis Public Schools over the next few years.
Mayor Greg Ballard advocated for the 2014 creation of "innovation-network" schools, which are granted autonomy from district rules but still held to performance benchmarks set by the district.
Superintendent Lewis Ferebee has said he's interested in more collaboration between IPS and charter schools, including pursuing a unified enrollment system across the city.
"Having the mayor be behind that effort has been and will continue to be very important," Harris said.
Council dynamic important
Once Hogsett takes office in January, many city leaders will also be on the lookout to see what the dynamic is between him and the newly elected City-County Council.
Outgoing Indianapolis Mayor Greg Ballard's second term has been marked by frequent clashes between the mayor's administration and council members who felt the mayor was skirting their governance role.
The conflicts often came from contracts that were executed outside of a traditional public bidding process—including the now-killed justice center proposal, the Vision Fleet electric car contract, and the BlueIndy car-sharing program. The displeasure at the tenor of the relationship between the council and the mayor's office was felt by both Republicans and Democrats.
Hogsett has proposed ethics reforms that would address some of those issues, including a push to increase the number of contracts that are publicly bid and the creation of a "Disclose Indy" website that would track contracts and other public records.
Burton said those ideas need to be "translated into action" once Hogsett takes office.
"I think any mayor in any city that comes into office is inherently going to have to deal with the unfinished business of the previous administration," Burton said. "But I think this mayor has to work not just to rebuild and regain the trust of the citizens, but to mend the broken relationship between the mayor's office and the City-County Council."
Former Democratic mayor Bart Peterson said it's going to take working across the aisle to solve big issues like the city's crime problem.
"Everybody's got to work together effectively to tackle this problem," Peterson said.
Whatever Hogsett tackles first, Peterson had some words of advice for the mayor-elect: Have fun.
"Even though the problems are really daunting and financing any city in Indiana is incredibly challenging, it's the best job in the world," Peterson said. "I think Joe can bring all those things to the table."
Please enable JavaScript to view this content.