Indianapolis ranked 31st in Cvent's annual listing of top meeting towns—down five spots from its 2014 ranking.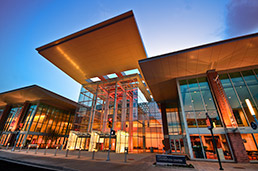 (File photo)
Cvent, a maker of online software for event management that also conducts meetings and convention research, annually ranks the top 50 U.S. meeting towns.
Orlando, Las Vegas and Chicago occupied the top three spots for 2015.
"Once known as only a racing town, Indianapolis' phenomenal renaissance is elevating its status as a leading destination for meetings and convention groups," Cvent wrote about Indianapolis this year.
Unfortunately, a number of Indianapolis' prime competitors for corporate meetings and conventions ranked higher than the Circle City.
Atlanta was No. 5; Dallas, No. 8; Nashville, Tennessee, No. 9; Denver, No. 13; San Antonio, No. 15; Charlotte, North Carolina, No. 25; and Minneapolis, No. 28.
"Competition for meetings and conventions business continues to be very heated between destinations that are eager to attract events to boost their local economies," said Bharet Malhotra, Cvent senior vice president. "This year, we witnessed numerous cities vying for a position in the top 50 list, with significant movement within the ranks. One of the interesting trends this year has been the rise of smaller cities moving ahead of and even displacing destinations that are near large metro areas but not downtown."•
Please enable JavaScript to view this content.