The dramatic exit of the top brass at American Senior Communities LLC has thrust into prominence the Jackson family—the deeply religious, intensely private clan that controls the state's largest nursing home company.

The Jacksons are devout Christians and charitable givers but also sharp-elbowed when it comes to business, according to numerous acquaintances and business associates.

Over six decades and two generations, the Jacksons' business interests have ranged from grocery stores to a grape farm, from car dealerships to a coal mine, from apartments to hospitals, and even now to oil and gas exploration and film production.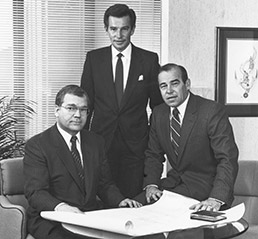 From left, Brady Justice, Ethan Jackson and Frank Jackson, in the late 1980s. (IBJ file photo)
But nursing homes have played a role in the family's empire since the 1960s. And from the late 1990s until now, they've been the main focus.

Everything was thrown into turmoil on Sept. 15 when the FBI and other federal agencies raided American Senior's offices, as well as the home of its CEO and the offices of some vendors that provide products and services to American Senior.

Soon after that, American Senior's board of managers—which is made up mostly of Jackson family members—fired CEO Jim Burkhart and Chief Operating Officer Dan Benson.

Mark Jackson became CEO and his cousin Blake Jackson became COO of the company, which has 94 long-term-care facilities that generate $645 million in annual revenue.

The Jacksons, along with David Justice, son of their longtime business partner, Brady Justice, own 100 percent of American Senior. They also control a handful of companies that do work for American Senior, such as a development and construction company that builds long-term-care facilities, an interior design firm that decorates them, and a real estate firm that owns the land and buildings.



American Senior and its related companies employ nearly 10,000 workers.

In a rare interview, Mark and Blake Jackson discussed the businesses they own. But in characteristic fashion, they declined to have their pictures taken.

"We're pretty quiet about what we do and really prefer to be that way," said Mark Jackson, 59, in a conference room at American Senior's headquarters near Interstate 65 and Southport Road.

He declined to comment on the FBI investigation, other than to say the company is cooperating with it. The FBI also declined to comment.

However, multiple sources with knowledge of the FBI's inquiries said it is focused on whether ex-CEO Burkhart or anyone else at American Senior received kickbacks from vendors that provided products and services to the nursing homes American Senior operates.

Kickbacks would violate the federal Stark laws that apply to health care providers, and if kickbacks inflated the charges American Senior billed to the federal government for Medicare and Medicaid patients, those charges could be considered false claims.

Larry Mackey, an attorney representing Burkhart, declined to comment. Burkhart, who has been a close friend of some Jackson family members for decades, had been CEO of American Senior since 2001.

Jackie Bennett, an attorney for Benson, did not return messages seeking comment. Benson had managed nursing homes for the Jacksons since 1997.

Mark Jackson said the ouster of Burkhart and Benson hasn't caused problems in American Senior's day-to-day operations.

"It's going very seamlessly," Jackson said. "We've got a really deep bench."

Nevertheless, the federal investigation has placed American Senior and the Jacksons in a precarious position.

If the U.S. Department of Justice proves that American Senior leaders were making false or unreasonable claims to Medicare or Medicaid, it could lead to those leaders' being excluded from receiving future Medicare or Medicaid payments, which account for about 80 percent of all payments to a nursing home.

Anyone who employs or contracts with a person excluded from the federal health care programs can be fined or excluded. So if Jackson family members were named and convicted of false claims, it could end their ability to operate health care businesses.

The whole industry was stunned in October when the U.S. Department of Justice came to a $38 million settlement with nursing-home company Extendicare for unreasonable and unnecessary billing, noted John Williams, an attorney at Indianapolis-based Hall Render Killian Heath & Lyman.

"We're going to see a lot more of these kinds of cases," Williams said.

Family business

Mark and Blake Jackson don't intend to remain the executives long at American Senior. They have started a search for new executives to lead the company.

That's how their respective fathers, Frank and Ethan, often handled their companies, too. The Jackson brothers owned the companies but often tapped Brady Justice, who died a year ago, to run them.

Ethan and Frank Jackson, both now near age 80, started forming companies together in their 20s. They did real estate development and construction, which ultimately led to building nursing homes under the name Turtle Creek.

The Jackson brothers were most prominent in the 1980s when they became co-owners of the Preston-Safeway grocery chain. They waged a bitter court battle against Minnesota-based Cub Foods and Ohio-based Kroger Co., accusing the larger grocery chains of predatory pricing. But a federal judge ruled against Preston-Safeway.

But in the face of fierce competition, the Preston-Safeway stores began to struggle, and the Jacksons pressed for wage and benefit cuts. The stores' unionized workers went on strike, even marching to Ethan Jackson's home, before a settlement was reached. But less than a year later, in June 1989, Preston-Safeway declared bankruptcy.

That wasn't the only labor strife the Jacksons faced in the 1980s. Their grape and vegetable farm in Arizona, Red Mountain Co., had a legal dust-up with migrant workers. The workers went on strike seeking better pay and benefits, and in 1985 won a restraining order after Red Mountain turned off electricity to the labor camp where most workers lived.

During that same period, the Jacksons controlled a company called Basic American Medical Inc. With Brady Justice as CEO, the company grew to own seven hospitals in Florida and other states, as well as a prescription-services firm, a rehab unit and a medical-products company.

It was sold in 1991 to Texas-based Columbia Hospital Corp. for $185 million, one of the early acquisitions in Columbia's march to become one of the country's largest hospital chains.

In the years after the sale of the hospitals, the Jacksons also sold off their Kentucky coal mine and the farm in Arizona.

And they mostly dropped from public view.

Later in the 1990s, some of the Jacksons invested in used-car dealerships in Florida and Arizona, many operating under the J.D. Byrider brand.

Over time, the dealerships were sold or closed, and the Jacksons exited the car dealership business entirely "in the last two or three years," said Blake Jackson.

"The car business is a tough business," said Mark Jackson, "and we preferred to put our focus and energy into senior care."

Creating a powerhouse

Indeed, senior care has been by far the most successful enterprise that the second-generation Jacksons have led.

The Jacksons turned their attention back to nursing homes in 1997. As a settlement to a legal dispute, the Jacksons obtained the rights to operate 18 nursing homes they had been leasing to Atlanta-based Grancare Inc. and began operating them under the name EagleCare.

The Jacksons formed American Senior in 1999 and began using that as a brand name.

A turning point for American Senior came in 2003, when the Health & Hospital Corporation of Marion County acquired the license to 13 of the Jacksons' nursing homes but kept American Senior as operator.

Because HHC is a public entity partly funded by Marion County taxpayers, its ownership of the license technically made the nursing homes county-owned, which qualified for additional payments from the federal Medicare program.

From 2003 through 2014, HHC passed on more than $452 million to American Senior and related companies owned by the Jacksons in the form of rental and lease payments, as well as management fees.

And HHC has taken its own cut of the extra federal money—a total of $667 million from 2008 to 2014.

For American Senior, the extra federal money helps cover expenses, but it has also pumped up company profits. That has helped American Senior build and acquire more facilities over the past 12 years. It even threw lavish parties some years for hospital workers who help patients find a nursing home to go to after they are discharged.

American Senior operates far more Indiana nursing homes than any other company. Its average occupancy rate of 91 percent is far above the state average of 76 percent.

It also operates facilities with better-than-average quality scores even though its staff cares for more challenging residents with higher-than-average levels of sickness.

That helps American Senior's facilities receive about $12 more per patient per day from the Indiana Medicaid program.

Other nursing home operators in recent years have formed similar partnerships with county-owned hospitals, which also draw down extra federal funding. But American Senior's dominance has remained intact.

Earlier this year, HHC acquired 17 more nursing homes for American Senior to manage.

One industry insider said American Senior "dominates" the Indiana nursing home trade industry and, until the FBI raid, was viewed as "untouchable."

Charitable ways

The Jacksons have shared the wealth American Senior has brought them.

Collectively, five foundations they control have assets of $13.4 million, and doled out gifts of $2.1 million, according to 2013 tax filings, the most recent available.

The Jacksons' largest gifts go to Christian ministries around the country, but they also give to Riley Hospital for Children and educational institutions such as Butler University, Grace College, Indiana University and Taylor University.

The Jacksons also are politically involved, particularly with socially conservative groups and candidates. Frank and Ethan Jackson collectively gave $25,000 to Gov. Mike Pence's 2012 campaign. And Frank Jackson and his nephew Wessley Jackson gave $55,000 in 2013 to Advance America, the socially conservative lobbying group run by Eric Miller.

Mark and Blake Jackson declined to discuss the family members' giving activities in detail.

"We believe in giving back because it's the right thing to do, but receiving recognition is not our motivation," Mark Jackson said.

Blake Jackson, referring to Jesus' Sermon on the Mount, said, "Somebody said 'left hand not know what the right hand is doing.'"

Troy Eckard, an oil explorer based in Texas, believes the Jacksons have failed to follow their faith in their business, according to court documents from a battle he waged with some members of the Jackson family over the past two years.

Some Jackson family members invested $10 million in a partnership with Eckard to buy lease rights to land in the Dakotas that might have deposits of oil and gas.

But in June 2014, Eckard's companies sued the Jacksons, accusing them of setting up a competing fund that they used to buy some of the very parcels Eckard had recommended, but avoiding paying Eckard any fees in the process. Eckard said the Jacksons' surreptitious competition cost him $15 million to $30 million.

"The Jackson family is comprised of sophisticated businesspeople holding themselves out as people of faith and, as such, understood that they owed a duty to [Eckard] not to engage in self-dealing," attorneys for Eckard's companies wrote in their lawsuit.

The two sides settled out of court in September, less than a week after the FBI raid on American Senior. Details of the agreement were not made public.

"We had different business interests and objectives than Mr. Eckard," said Mark Jackson.

When asked about criticisms about the Jacksons being sharp-elbowed, Mark and Blake Jackson said they view their business work as a kind of calling, but a calling that requires them to do business well and profitably.

Blake Jackson referenced a well-known essay by British writer Dorothy Sayers, titled "Why Work." Sayers argues that, "The only Christian work is good work well done."

"We try to be good stewards of the opportunities that we have and see. We want to be profitable and do business well," Mark Jackson said. "Business is business, but we're still going to try to do it right."•