It's a bit unusual that the tiny town of Farmland (population 1,333) hosts the headquarters of a company that's become a juggernaut in its business niche. But not as unusual as the niche itself—carnival midway rides, games and concessions.

Farmland, about 15 miles east of Muncie, is home to North American Midway Entertainment, which bills itself as the largest operator of mobile amusement parks in North America. The company owns more than 250 rides, games and concessions.

Each spring, summer and fall, it equips the midways at about 150 festivals, including 10 of the top 50 North American fairs, such as the Canadian National Exposition, Eastern States Exposition and the Kentucky State Fair.

The Indiana State Fair is on theschedule, as well. Which means that, if you attended this year, both the concession stand where you purchased your corn dog and the ride you lost it on later that day were operated by NAME.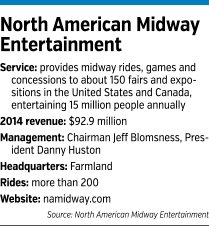 During this year's fair—Aug. 17, to be exact—the company announced the latest in a series of ownership changes that have, over the years, helped fuel its expansion. NAME was acquired for $75.5 million by Connecticut-based Townsquare Media, which operates 310 radio stations and 325 search engine and mobile-optimized local websites, and stages about 500 live events in 66 small and midsize U.S. markets.

Dhruv Prasad, Townsquare's executive vice president for live events, thinks carnival rides mesh nicely with the company's other businesses.

"Over half of NAME's events take place in markets that are less than 100 miles from markets where we own radio stations and local digital-marketing assets," Prasad said.

"We felt we could help drive attendance at the fairs through our own marketing, just as we've done to build our live-events business over the last several years."

It took decades for NAME to morph into a heavyweight. Company President Danny Huston's first foray into the carnival business was small, almost microscopic. He grew up in a hamlet near Farmland called Windsor, where, as a pre-teen, he worked for a family friend who hauled carnival games to corporate functions in surrounding towns. Huston's first job was serving as a target in a dunk tank.

Huston
"We made a couple of bucks, but it was more about fun than money," Huston said.

As he matured, the money part loomed larger. After high school he purchased a balloon game, which players burst with darts to win prizes. Huston gradually expanded until he and his business partner, Jeff Blomsness, purchased Mid America Shows from his wife's brothers in 2000.

They sold the business in 2005 to a New York-based private equity fund, The Cypress Group, becoming the smallest of a passel of middling companies the firm combined and rechristened North American Midway Entertainment. Quicker than you can lose ten bucks at a shooting gallery, it became a national player.

Blomsness and Huston led NAME under Cypress' ownership, and when the private equity firm decided to sell it in 2010, they stepped up and bought it, transferring the company's headquarters from Ridgeland, Mississippi, to Farmland. They are sticking around to run the business after this sale as well. Blomsness serves as chairman of NAME.

Townsquare is rolling out a range of strategies to help its investment pay off, beyond the obvious one of using radio stations to drive attendance at NAME events. It plans to develop advertiser partnerships, create new events and, ultimately, offer its marketing, website management and live expertise to NAME's fair clients.

"NAME comes with a network of 150 events, all of which have fair boards and all of which have venues," Prasad said. "There should be fertile ground for our company to help the fair industry grow. This will probably take the longest to develop because it's so relationship-based, but Townsquare has a lot of services to offer."

Jim Tucker, CEO of the International Association of Fairs and Expositions, said the carnival ride and midway business is highly fragmented, with few firms boasting NAME's resources or scope.

"They vary in size, from very large to very small operations that you'll see at county fairs across the country," Tucker said. "NAME is one of, if not the, biggest."

Tucker said that, while no one keeps statistics on the industry's performance, anecdotal evidence suggests it's holding its own. IAFE's roughly 1,200 members include everyone from the largest state fairs to the tiniest county gatherings. Each year at IAFE's annual convention, the organization surveys its members to see how events went.

"Eighty percent of the fairs reported steady or increased attendance this year," Tucker said. "Fairs are doing well and, as a result, the contractors are, too."

NAME, which covers most of the United States and Canada, marshals its resources from five units based around the United States, each with a roughly 400-strong crew.

Employment swings wildly between the off season (November to February/March) and the rest of the year. Right now, NAME maintains about 500 employees, many engaged in ride repair at storage/maintenance facilities around the country. In the summer, when those rides see action, staff swells to around 1,700.

It can be a grueling way to make aliving, spending the warm months setting up, running, breaking down and transporting a massive, complicated carnival.

"It's like moving an army," Huston said. "It takes unique individuals to travel and to do the things that we do. I like to say that not only is this a job, it's a way of life."

Since a Midway Ride Maintenance class isn't offered at most community colleges, NAME maintains an Indianapolis training center for its employees. The trickiest pieces of gear are the roller coasters and log flume rides.

"It takes multiple cranes to set them up and multiple people to constantly monitor every car that goes out of the station," Huston said.

There's no event too big for NAME, but there's also nothing too small—provided it's before summer's peak fair season. If things are slow, NAME can furnish, say, a single ride and a funnel cake stand for a church social. The company even set up a Ferris wheel for last year's NCAA Final Four in Indianapolis.

"It could be the Super Bowl. It could be a birthday party," Huston said. "I've done a couple of bar mitzvahs in the Detroit area."

Could expansion mean buying more rides? Perhaps, though for now management is playing that close to the vest. After all, one new roller coaster can cost $1.5 million or more.

Though NAME's current stock is maxed out during the peak summer months, Prasad said Townsquare is looking to create events outside of that "prime time."

"We'll look at adding capital and growing the assets of the business as opportunities come along," he said. "One advantage of NAME being part of a bigger company is that we have more capital flexibility to grow the asset fleet if business opportunities warrant it."•