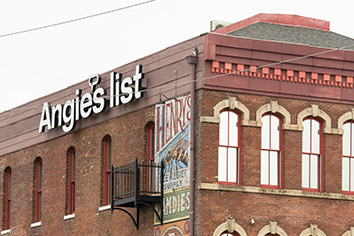 After seeing its offers to buy Angie's List turned down in private and in public, New York-based IAC/InterActiveCorp. has the next move in what is shaping up as a chess match between the two firms.
On one side is Angie's List, a home-services reviews and marketplace firm that has repeatedly performed below Wall Street expectations and is hoping investors will give it more time. On the other side is IAC, parent of rival firm HomeAdvisor, hoping investors are fed up and ready to cash out.
Angie's List on Tuesday rejected IAC's takeover offer of $512 million, or $8.75 a share, saying it was more interested in trying out its turnaround growth plan. It was at least the second takeover offer by IAC, which made a private offer to buy Angie's List for $8.50 a share on Oct. 23.
Analysts who cover Angie's List, including Ken Copley of Iowa-based Capital Executive LLC, expect IAC to respond by sweetening its bid again. Depending on how that plays out, IAC could ultimately walk away or take its offer directly to shareholders with a so-called hostile takeover.
"If [IAC Chairman] Barry Diller really wants this, there's nothing they can do to stop him. He'll just take it right to the shareholders and force a vote," Copley said. "But the question is, 'Is it worth more?'"
Copley later said that if Angie's List CEO Scott Durchslag's growth plan, which includes $10 million in cost cuts, yields results, "then the shareholders stand to gain a lot more by Angie's List remaining a stand-alone company."
IAC did not respond to requests for comment.
Talk of Angie's List being acquired by IAC took off last month when activist investor TCS Capital Management, a 10 percent stakeholder, began pushing for a merger with HomeAdvisor.
Managing Partner Eric Semler couldn't be reached for this article, but he told IBJ in October that he was fed up with the lackluster performance of the company and had little trust in any corporate turnaround plans.
"The company has had a consistent track record of hiring the wrong people," Semler said. "They've had four technology officers in 18 months. I don't have a lot of confidence in their ability to hire people that are going to fix the business."
He declined to say whether he reached out to IAC before or after presenting his plan in mid-October, but said he believes the company's time as a stand-alone firm is effectively up.
"They have a wildly optimistic view of their ability to execute," Semler said. "It's inevitable that it'll be acquired by another industry player."
Blake Harper of Topeka Capital Markets said Angie's response should buy it time "to pursue organic growth and also have a stronger position and stock price to potentially negotiate a higher offer later."
He added: "IAC will likely raise their offer or fight for a proxy vote. [I] don't see them walking away this easily." 
Please enable JavaScript to view this content.