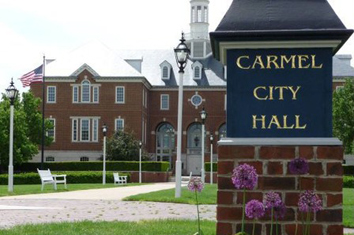 The Carmel city attorney took a paid administrative leave earlier this year and upon his return received a 23 percent raise that will take effect in 2016.
Doug Haney, who has served as city attorney since 1997, took the leave from Aug. 18-Sept. 1, according to IBJ research. At one time, Mayor Jim Brainard even said Haney had quit. But later, he said the attorney was off for personal reasons.
Carmel spokeswoman Nancy Heck would not confirm the dates Haney was gone, saying it isn't public record under the Indiana Open Door Law. She also would not explain why any of the time was paid or specify if any was unpaid. The new salary is public record.
The increase went unnoticed during budget workshops in September. Haney told the Carmel City Council that the boost in personnel costs for the city's legal department was due to hiring an additional employee.
But it also includes his higher salary. Haney is set to earn $121,429 in 2015 and next year could earn up to $150,073.
Haney did not respond to a phone message or email from IBJ.
The Brainard administration has maintained that the pay hike is necessary to keep the salary competitive with other municipalities and the private sector. In addition, Steve Engelking, director of administration for the city, said that if the city needed to hire a new attorney in the future, the salary would need to be higher than it is now.
While city officials won't say why Haney took time off, the leave occurred as the council began debating an anti-discrimination ordinance to protect lesbian, gay, bisexual and transgender individuals.
Haney had told Finance Committee Chairwoman Luci Snyder that he could not attend the meeting where amendments to the ordinance were expected to be discussed, according to emails obtained by IBJ. So she tried to postpone the meeting. But Brainard requested Snyder proceed as scheduled, saying Haney's absence had not been approved by him.
"The meeting date was announced last night to many people," Brainard wrote in an email to city councilors Aug. 18. "Additionally, let's get this over with as quickly as possible."
Twenty minutes later, Brainard sent another email.
"Mr. Haney has resigned as city attorney, effective this afternoon," Brainard wrote.
By the next day, however, Brainard said Haney had not resigned but was on paid administrative leave for personal reasons.
"The email could not have been more clear," City Council President Rick Sharp said. "The wording was 'has resigned.' There is no way you interpret 'has resigned' as a leave of absence."
Several city council members say they think the increase is tied to Haney's paid administrative leave.
"To plan on greater flexibility because someone may or may not show up for work in the future is a poor reason to increase the salary in my opinion," City Council member Eric Seidensticker said.
Governments typically use paid administrative leave for uniformed employees, like those in the police and fire departments.
Seidensticker said he had never known of a civilian employee receiving administrative leave for personal reasons prior to Haney's time off.
Seidensticker said that during a meeting with Brainard to discuss the anti-discrimination ordinance, the mayor had said Haney wanted nothing to do with the legislation. Seidensticker speculated Haney's displeasure escalated into his resignation.
Sharp said he suspects Haney "came pleading for his job back."
Seidensticker said he believes that when Haney argued to stay on, he also negotiated a higher salary.
"I don't think that 23 percent increase is a merit-based increase," Seidensticker said.
Sharp and Seidensticker voted against the salary increase when it came up for a vote Oct. 19, but the council approved it 5-2.
"I would expect to pay six times of what's listed here," said council member Carol Schleif, when she voted for the increase. "I would not like our city attorney to leave because he can get more money elsewhere."
Please enable JavaScript to view this content.