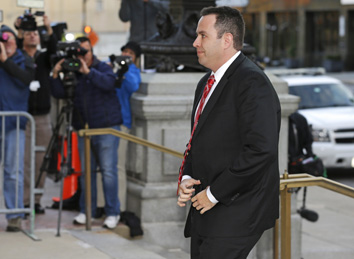 A judge on Thursday sentenced former Subway pitchman Jared Fogle to 15 years and eight months in federal prison—even more than requested by prosecutors—for trading in child pornography and having sex with underage prostitutes.
U.S. District Judge Tanya Walton Pratt sentenced Fogle after he pleaded guilty to one count each of traveling to engage in illicit sexual conduct with a minor and distribution and receipt of child pornography. Pratt also ordered him to pay a $175,000 fine and required him to serve a lifetime of supervised release after his sentence. 
Fogle agreed to the plea deal in August after authorities raided his Zionsville home in July.
Prosecutors sought a 12½-year sentence, while Fogle's attorneys sought five years. However, federal judges have wide discretion to impose sentences that exceed prosecutors' requests. The child-porn charge carried a maximum 20 years in prison, and the sex with a minor count was punishable by up to 30 years.
 
The 38-year-old Fogle admitted paying for sex with girls as young as 16 and receiving child pornography produced by Russell Taylor, the former director of The Jared Foundation, a not-for-profit Fogle founded to raise awareness and money to fight childhood obesity.
 
Authorities said Taylor secretly filmed 12 minors as they were nude, changing clothes, or engaged in other activities using hidden cameras in his Indianapolis-area residences to produce child pornography. Taylor has agreed to plead guilty to child exploitation and child pornography charges.
Prosecutors said in a sentencing memorandum filed last week that Fogle received photos or videos from Taylor of eight of those 12 youths, and that some of those images were of girls as young as 12. Fogle could have stopped Taylor from victimizing some of the minors, prosecutors said Thursday, but he instead encouraged Taylor to produce additional child pornography.
Fogle's sentencing on Thursday followed testimony from witnesses about his appetite for pornography, prostitutes and prepubescent girls.
John Bradford, a professor at the University of Ottawa in Canada, testified by phone that he analyzed Fogle on Aug. 17, two days before Fogle agreed to his plea deal, and concluded Fogle suffers from hypersexuality, mild pedophilia, and alcohol abuse and dependency.
He said he took Fogle's sexual history, including his sexual interests, and tested him to determine what images caused Fogle to be sexually aroused. He said Fogle also told him that he had "a fairly extensive history" of using prostitutes for sex. Under cross-examination, Bradford said Fogle admitted to paying a minimum of about $12,000 a year for sex.
"He certainly engaged in sex over a significant period of time. He engaged in that extensively when he was working for the Subway Corp."
And Bradford said Fogle told him he had engaged in sex with minors of 16 and 17 years of age and said that he had a sexual interest in teenagers.
"He started viewing pornography in college and had a fairly extensive collection of pornography in college," Bradford said.
Bradford said Fogle apparently had a compulsive eating disorder before he lost all of the weight that led to him becoming the face of Subway, and that his hypersexuality seemed to develop shortly after he shed the extra pounds.
He also said Fogle, whose wife filed for divorce on the day he agreed to plead guilty, admitted that he occasionally fantasized about children. "His main interest was in young females and some interest in adolescent males."
Bradford said he concluded that Fogle suffered from "mild pedophilia."
Bradford said that Fogle told him he had fantasies about prepubescent females and had masturbated to those fantasies.
"There's no evidence I have that he actually engaged in sex" with such children, he said.
Before Walton handed down her sentence, Fogle addressed the court, apologizing for the harm he did to his 14 victims and vowing to be a better man and father to his two children when he gets out of prison.
"I so regret that I let so many of you down," he told the court.
"I want to redeem my life. I want to become a good, decent person. I want to rebuild my life," he said.
In the government's filing, prosecutors said "Fogle has sacrificed absolutely everything he had built—including his family—to engage in sexually explicit conduct with two minors. He emboldened a molester and a producer of child pornography."
 
Court documents detailing the charges against the 38-year-old father of two said that Fogle had sex at New York City hotels with two girls under age 18—one of whom was 16 at the time—and paid them for that sex.
 
Fogle agreed to pay a total of $1.4 million to his 14 victims, with each getting $100,000.
He became a Subway spokesman after shedding more than 200 pounds as a college student at Indiana University, in part, he claimed, by eating the chain's sandwiches. Subway ended its relationship with Fogle after authorities raided his Zionsville home in July.
Under federal rules, Fogle must serve 85 percent of his sentence, which means he must serve more than 13 years in prison. Fogle can appeal his sentence, but not his conviction under his guilty plea.
"What a gift, to have such a professional windfall fall in your lap," Pratt said in handing down the sentence. she said Fogle blew the chance he'd been given by living a double life.
"The level of perversion and lawlessness exhibited by Mr. Fogle is extreme," said Pratt. She recommended Fogle receive sex offender treatment in prison and said she'll recommend he serve his time at a federal lockup in Littleton, Colorado, that specializes in such treatment.
In their sentencing memorandum seeking a five-year prison term, Fogle's attorneys said he "is profoundly sorry for what he has done." They also wrote that Fogle suffers from "hypersexuality and alcohol abuse/dependence" and is committed to receiving treatment for his medical conditions.
 
In addition, Fogle's attorneys stressed that he never engaged in any sexual conduct with any of Taylor's minor victims and played no role in producing any of the images or videos recorded by Taylor.
 
Fogle's attorneys said in their sentencing memorandum that Fogle's offer to pay each victim restitution demonstrated "both the genuine remorse he feels and his commitment" to help his victims "move forward" with their lives.
According to Senior Litigation Counsel Steven D. DeBrota, Fogle's is the largest amount of restitution ever ordered for a child pornography or sex trafficking case in the history of the Southern District of Indiana. The victims will be able to use these funds to pay for counseling and treatment.
Even with the scandal behind it, Subway Restaurants faces other challenges.
The Milford, Connecticut-based company used its "Eat Fresh" campaign featuring Fogle to fuel growth—it now has about 27,000 U.S. locations. More recently, however, the company has been suffering declining sales and increased competition from rivals including Panera and Jimmy John's. And in September, Subway's CEO and co-founder Fred DeLuca died.
Last month, the chain joined many of its competitors by announcing it will switch to meat raised without antibiotics, beginning early next year in the U.S. The change, which will be phased in over the next decade, is part of a broader strategy to maintain its image as the go-to healthy fast-food option and adjust to shifting consumer tastes.
 
Please enable JavaScript to view this content.