The receiver appointed to recover investor losses from an alleged Ponzi scheme said he's retrieved in five months about 20 percent of what investors were owed, a figure experts say is relatively high at this stage for such cases.

Wendling
Attorney William E. Wendling Jr., of Carmel-based Campbell Kyle Proffitt LLP, said that when a federal judge granted him purview over certain operations at Indianapolis-based investment adviser Veros Partners Inc. on May 1, Veros owed $8.63 million to about 80 investors.
As of Sept. 30, Wendling said, he has recovered $1.7 million, a figure he expects to grow.

Maddox
Perpetrators of Ponzi schemes repay old investors with cash from new investors, rather than from returns on legitimate investments. When these schemes collapse, investors typically are able to recoup only pennies on the dollar, former Indiana Securities Commissioner Mark Maddox said. But the Veros case appears headed for a better-than-average outcome.
"As someone who has seen lots and lots of receiverships over the years, a 20 percent return is actually pretty good," Maddox said, noting that he's seen receiverships last two to seven years. "Twenty percent this quick is very much on the front end of one of the better results that you'll see in these cases."
The U.S. Securities and Exchange Commission sued Veros in April, charging that company President Matthew Haab and two business associates raised $15 million from 80 investors in 2013 and 2014 to fund operating loans to farmers. The investors were supposed to recoup their money—with at least 10 percent annualized returns—in 12 to 14 months.
When some of the loans soured, the perpetrators repaid some old investors with new investor money, the SEC said. It alleges the scheme would have continued had the agency not interceded.
In addition to Haab, the individual defendants are former stockbroker Tobin Senefeld of Indianapolis and attorney Jeffrey Risinger of Fishers.
Attorneys for Haab and Senefeld did not respond to requests for comment, while the attorney for Risinger declined to comment. In May, Richard Kiefer, a partner with Bingham Greenbaum Doll who represents Haab and Veros Partners, told IBJ the investment plan "was not a Ponzi scheme."
While the investment-retrieval effort appears off to a good start, it's still far from clear how much investors ultimately will recoup. Payments to other creditors –such as banks that extended cash for Veros operations–and professional fees for the receiver, accountants and others to untangle knotty cases such as this can be substantial.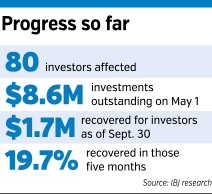 "I understand these people have lost money, want information, and would like to see a recovery as quickly as possible," Wendling said. "It just takes time."
The SEC's Veros case is in the discovery phase; it could go to trial as early as December 2016 if no settlement is reached.
The SEC has power only to seek civil damages, so any federal criminal charges would have to be brought by the U.S. Department of Justice. The department wouldn't comment on whether it's investigating.
It's possible the Indiana Secretary of State's Securities Division could levy fines or urge county prosecutors to pursue criminal charges. Valerie Warycha, a spokeswoman for the secretary of state, said she couldn't comment on whether an investigation is in progress.
Maddox, the former securities commissioner, said, "The longer it goes without there being criminal charges being filed," he said, "the less likely it is that there will be a criminal case."
As the SEC lawsuit plays out, Wendling said he's working to assess how much each investor is owed and simultaneously pressing borrowers for past-due payments.
His strategies for collecting debt might include negotiating repayment plans, filing lawsuits, and selling assets farmers used to secure loans. In June, for instance, he visited Oregon to survey farm equipment, real estate and other collateral used by a farmer who had a delinquent loan. Wendling said he also might recoup cash from investors who received money they shouldn't have. The so-called clawbacks would target investors who thought they were receiving principal and interest payments but in fact were receiving new investor money.
"That's a pretty complicated procedure," Wendling said. "We have to make a determination whether going after that is economically feasible."
The $1.7 million recovered so far mostly came from a negotiated payment with a delinquent borrower at a Fortville-based farm, according to court filings. A lawsuit against an Illinois-based farmer is in progress.
Since his appointment, Wendling, his associates and the service professionals he's contracted have received fees of $390,375.
About $220,600 of that came from collecting payments for the investors. The rest came from managing other Veros business operations.
Those figures have already been subtracted from recovered funds, Wendling said. He estimates that creditors other than farm loan investors might have rights to $50,000 to $100,000, but they'll have to file claims.
In addition to hiring Wendling to help recover past-due loans for the 80 investors, U.S. District Court Judge Jane Magnus-Stinson has asked him to assess whether another Veros investment division is sound. This unit has raised funds for investments through about 25 private placements, most of which were not for farm loans, Wendling said.
Wendling said it so far doesn't appear fraud or other improprieties were involved with those private placements. However, 11 are or may be financially stressed, he said, and he's working to stem losses.
Veros had about 25 employees when the SEC filed its complaint. It now has about five. Wendling said those employees, as well as the defendants in the case, have been "exceedingly cooperative" with him and the accounting firm he hired, Indianapolis-based Blue & Co.
Court filings indicate that, as of March, Veros had almost 300 advisory clients and $160 million in assets under management. Those assets decreased to $74.3 million as of July 1 and $63.4 million as of Sept. 30, Wendling said in his latest report. The number of clients fell from 208 to 191.•
Please enable JavaScript to view this content.