Eilenberg
For Kristin Eilenberg, it was a daily problem.

As chief operating officer of a 2,000-person division at Eli Lilly and Co., she had at least one chat per day with an employee asking for approval to attend a conference.

The Indianapolis-based drugmaker paid for each person on her team to attend two conferences a year. And at $2,500 a pop in registration fees, travel, hotel and food expenses, Eilenberg knew those conversations translated into millions of dollars of spending.

But she had no way to know whether that spending was wise or a waste.

"I was going by the conference brochure and trusting the person that did the initial assessment. But I never felt good about it," said Eilenberg, a 14-year veteran at Lilly who led operations for its discovery information technology unit from 2009 to 2010.

Five years later, Eilenberg has turned her frustration into a business. In January, she launched Lodestone Insights and has built up a team of 15 people feeding a searchable, sortable database of more than 4,100 conferences around the world.

For now, Lodestone Insights is focusing on conferences in technology, health care and pharmaceuticals. But even in just those three areas, Eilenberg said, $17 billion is being spent each year.

And spent blindly.

"It's a challenge to make those right decisions," said Debbie Locklear, president of Meeting Services Unlimited Inc., an Indianapolis-based meeting and convention planning firm. Speaking of companies looking to exhibit at a conference, she added, "Sometimes, they actually have to try it before they know it's the right audience for them."

Nationwide, annual spending on events and conferences by sponsors, participants and suppliers totaled nearly $557 billion in 2012, according to an analysis by PricewaterhouseCoopers for the Convention Industry Council. Worldwide, the industry is estimated at twice that size.

"We're at the very beginning of this," said Eilenberg, 43, speaking from her office in an old house on College Avenue in Carmel.

The company has six U.S. workers and nine in Nairobi, Kenya. Most of them pull information from conference agendas, which often exist just as a Web page or PDF, and put them into database form. That work requires sifting different labels used by different conferences so they are organized in a common way that can be analyzed.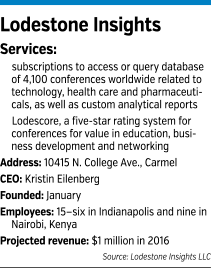 Lodestone is also testing website-scraping technologies that could partially automate its processes.

Locklear, the meeting planner, had never heard of Lodestone. But after reviewing its website, she said such a service would be valuable for meeting planners, as well as sponsors and attendees. For a health care conference her firm organizes, her staff spends about 25 hours researching other health care conferences to get a sense of which topics to focus on.

"It's a huge undertaking," she said. "It's a very time-consuming process, but it can pay off well for the client."

Lodestone's pitch is for companies to pay it a subscription fee for access to its database of conferences, so they can decide which shows will bring the biggest bang for the buck for their sponsorships, exhibit booths and for sending employees.

Lodestone even has developed an algorithm to rate conferences—using a five-star system—on their usefulness for education, sales opportunities and networking. Lodestone calls those ratings Lodescores.

It offers a basic service, listing conferences and their Lodescores, for $240 per year. A premium service, which offers on-demand queries of the database, is listed at $10,000.

Lodestone also will sell its data to sophisticated users who have their own software systems for analyzing it.

In addition, Lodestone will do customer analysis for companies. It has 10 clients hiring it for that service so far, including Lilly, the Silicon Valley software firm VMware, the giant consulting firm McKinsey & Co., and Optum Health, which is a unit of Minnesota-based UnitedHealthcare.

But Lodestone isn't just hoping to make companies smarter on how they handle conferences. It's also pitching the idea that tracking conferences can provide critical business insights—on key trends and on what competitors are up to.

For example, some of Lodestone's clients have requested analysis on their competitors, not only where they're doing conference sponsorships and marketing, but even where their employees are speaking—giving insights into their business strategies and priorities.

"You don't actually have to go to conferences to get the insights of conferences," Eilenberg said. She quickly added that she still encourages clients to attend conferences, and noted her clients so far have spent more money on conferences after using her service.

But she thinks companies can gain key insights just from the data itself.

Eilenberg is now trying to raise $500,000 to ramp up sales and marketing. She pitched Lodestone to the Dolphin Tank event, held in Indianapolis on Nov. 12.

"People ask, who are our competitors?" Eilenberg said. "It's everyone who's ever made a decision about a conference without using data."

This isn't Eilenberg's first attempt at starting a business. She continues to operate her own consulting firm, Lodestone Logic, although she spends most of her time on the conference business.

Eilenberg also partnered in 2013 with Indianapolis entrepreneur Michael Cloran to try to launch the Infuse Accelerator, which aimed to make "seed-stage" investments in 12 to 15 digital health startups every year and run them through training and testing. But Infuse never got off the ground as Eilenberg had family issues that diverted her attention, and she kept getting requests for the conference data she had started gathering.

"This has been brimming at the top of her idea bucket," said Emily Tisdale, CEO of Indianapolis-based health care consulting firm Recourse Resource Consulting, who has worked with Eilenberg on past projects. "What she does very, very well is, she sees a need and she gets it met."•