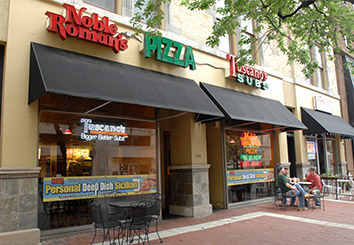 The largest outside shareholder of Indianapolis-based Noble Roman's Inc. is calling for the sale of the company or the ouster of management in a letter blasting its performance.
Executives of Atlanta-based Privet Fund LP, which owns 14 percent of the 43-year-old pizza chain's nearly 21 million total shares, delivered the scathing letter to company directors Nov. 12, just three days after Noble Roman's reported disappointing third-quarter earnings.
Quarterly revenue slipped from $2.1 million to $2 million, compared with the same period last year, while profit fell from $813,000, or 4 cents per share, to $425,000, or 2 cents per share.
"The most recent quarterly results continue to prove that accountability is sorely lacking throughout the upper ranks of the company," Privet said in its letter.
The activist investor group said it believes that there would be "significant" interest in acquiring the company and, absent a "dramatic" change in leadership, it's requesting the immediate retention of an unaffiliated investment bank to explore a sale.
"For now, in the interest of brevity, let us make the purpose of this note clear—our patience with company leadership has run out," Privet said.
Company CEO Scott Mobley said the letter is "clearly inflammatory."
"Some groups organize around creating controversy, and they seek to exploit that controversy," he told IBJ. "I don't really see a point in legitimizing it by going into any rebuttal."
Mobley also said the company is not exploring a sale.
Privet, which has $137 million in assets under management, and New York-based Red Alder Master Fund LP, which has $200 million under management, each has boosted its ownership above 5 percent within the past year, a threshold at which investors have to file public disclosures.
This spring, Privet nominated two board members in hopes of expanding the Noble Roman's board from four to six members. But after Noble Roman's added Red Alder founder Schuster Tanger, creating a fifth board seat, Privet withdrew its nominations.
For much of its history, Noble Roman's board had just three members: Paul Mobley, 74, a longtime executive who became CEO in 1991; his son Scott Mobley, 51, who joined in 1992 and assumed the CEO reins last November; and Douglas Coape-Arnold, who joined in 1999.
Jeffrey Gaither, a Bose McKinney & Evans partner, joined an expanded board in 2010.
In its letter, Privet scolded Noble Roman's for having more company-affiliated directors than independent directors, and for not having any director who has served on the board of another food company.
"Shareholders deserve experienced operators capable of executing a well-conceived business strategy rather than being forced to subsidize unnecessary management missteps and delays," Privet said. "We also believe a well-informed, independent board of directors would have come to this conclusion long ago."
Noble Roman's thinly traded shares available were fetching $1.28 each on Wednesday morning, down from a 52-week high of $2.49.
Privet claims the company's failure to deliver an appropriate return on investment stems from its attempt to build a standalone take-and-bake pizza business. The investment firm said the effort is taking too long due to management's "learning on the go."
Noble Roman's started with traditional pizzerias in 1972, and over the years has pursued strategies such as franchising smaller shops in convenience stores and developing a sub-sandwich concept.
The company's take-and-bake concept is  similar to that of the industry-leading Papa Murphy's chain. Pizzas in the Noble Roman's Take-n-Bake locations are made to order at room temperature, and customers cook them at home.
Noble Roman's said in its third-quarter earnings report that it has engaged a franchise broker and a franchise-referral company to help boost take-and-bake franchise sales leads. This year, it also increased the number of grocery store distribution centers for its take-and-bake products, giving Noble Roman's access to more than 10,000 grocery stores.
Scott Mobley said in the latest quarterly earnings release that the company is poised for profitable growth.
"We are encouraged by the strong response from grocery store distributors and the number of their customers adding Noble Roman's," he said, "and we believe all of the enhancements we have been working on this year in our selected venues will combine to help accelerate future revenue growth."
Correction: A previous version of this story incorrectly referred to Paul Mobley as the founder of Noble Roman's.
 
Please enable JavaScript to view this content.