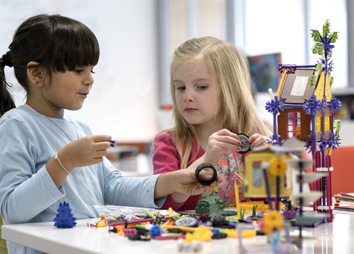 With the right toys, your kids can transform into mini-engineers this holiday season.
A team of Purdue University engineers this week released its second annual Engineering Gift Guide of toys designed to inspire creativity in children and teach them important problem-solving skills just in time for the biggest holiday shopping weekend of the year
Most importantly, the toys on this list are just cool—from building motorized animals to programming robots to creating endless pathways of mazes.
The list of about 50 toy suggestions and 30 book ideas comes from Purdue's Inspire Research Institute for Pre-College Engineering.
Monica Cardella, director of the research institute, said the goal of the gift guide is to arm as many children as possible with toys that will promote STEM-oriented thinking, regardless of whether they have parents who are engineers.
STEM stands for science, technology, engineering and math.
"We want all children to have access to those kinds of learning experiences where they can exercise the creativity and problem-solving skills they already have," Cardella said. "They're great at asking questions. We want to nurture that."
Inspire especially wants to get the message out to parents of girls and minority children, who are currently less likely to end up becoming engineers. Just 11.2 percent of bachelor's degrees in science and engineering were awarded to minority women in 2012, according to the National Science Foundation.
"Girls can really enjoy these toys, too," Cardella said.
The toys on the list were play-tested this fall by girls and boys, their parents and other engineers. They were then scored based on how well the toy promoted engineering thinking, how much support a child playing the game needed from adults and how much fun it was.
Each toy on the list earned a seal of endorsement from Purdue.
There's one downside to the toys on the list: "Some of them can be pretty pricey," said Elizabeth Gajdzik, assistant director of INSPIRE.
The full list can be found here. IBJ asked Purdue's team to suggest seven of its favorites:
1. Puzzlets, $99.99, Ages 6+: Teaches kids the basics of coding and programming using a console and downloadable game app.
2. Dash and Dot by Wonder Workshop, $279.99, Ages 6+: Robots that teach creative problem-solving and programming.
3. GoldieBlox and the Builder's Survival Kit, $59.99, Ages 7-12: Combines girl power and engineering. Bonus: "There's a really cool journal that talks about how she gets her ideas and teaming," Gajzik said.
4. Ideal Amaze 'N' Marbles, $129.99, Ages 5+: Construction set allowing child to create mazes for marbles. Gajdzik called this is a "pretty traditional toy that appeals to girls and boys."
5. Remote-Control Machines Animals, $49.95, Ages 8+: Build motorized animals. "Kids look at nature and animals for making informed decisions about design," Gajdzik said.
6. Tangible Play's Osmo, $99.99, Ages 6+: Game that attaches to iPad. "It also hits on English language work. It really teaches spatial reasoning," Gajdzik said.
7. Rosie Revere Engineer, $16.95, Ages 5-7: Book by Andrea Beaty. "It talks about failure in your own designs and how you learn from things that don't work," Gajdzik said.
Please enable JavaScript to view this content.