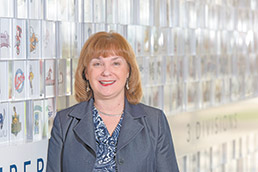 (IBJ Photo/ Eric Learned)
Senior Vice President of Administration, CFO
NCAA
If you were CFO for a business where about 85 percent of the revenue came from just one of your products, you might urge owners to throw all your resources behind the moneymaker and ditch the rest.
But that's not how you do business when you're the NCAA, the voluntary group of more than 1,100 institutions, conferences and organizations for which men's basketball brings in the bulk of the revenue.
"The vast majority of our revenue comes from those three weeks in March," said NCAA CFO Kathleen McNeely, referring to the NCAA men's basketball tournament. "That lack of diversity in the revenue stream is what gives me my heartburn moment."
To keep things on track since coming to the NCAA in 2011, McNeely has developed a 10-year budget and capital plan. Her review of the budget has led to cuts of $7.5 million. Refinancing debt resulted in $1 million in savings. And a new procurement and RFP system has resulted in millions more in savings as well as better internal controls. In the past 18 months, McNeely led an initiative to create a new annual financial distribution to NCAA members of $18.9 million, which is restricted to programs beneficial to student athletes.
"I originally planned on going into banking," McNeely said. "But banking in Bloomington means you're a teller—which was not going to happen."
Instead, she went to work for IU, her alma mater, starting as assistant manager of external reporting and administration in 1990 and moving along, eventually, to associate vice president and executive director of financial management services.
She was not looking to leave. But then a call came from the NCAA.
"The challenge was that I hadn't touched a resume in a long, long time and had to put one together," she said.
Three weeks later, she got the offer. Among the challenges of the job: negotiating travel—with very little notice—to move teams, governance and staff around the country for championships.
"The brackets come out, and we are moving," she said. Consolidation with one bus service for championship travel helped on multiple fronts.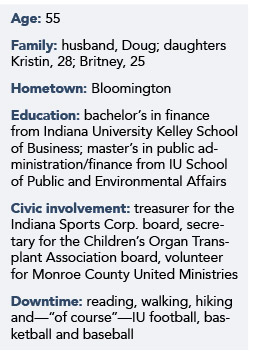 "It's not just about the bottom line," she said. "Yes, we maximized savings, but we also got the safety measures that are important to us."
Ditto for hotels. "We engaged a third-party agency to provide better services and rates to higher-ed athletic departments for NCAA championships. It was supposed to take five years for a return on investment, but in two years we are already in the black, making enough in rebates to pay for the travel agency costs, getting better prices and maximizing the service we are getting for our teams."
Still, there are always concerns.
"The demographic that watches college sports is an aging demographic," she said. "Sports is one of the last areas of TV where people aren't DVRing.
"People have a passion about watching it live. But there are .. more and more challenges filling stadiums. My real challenge is controlling spending while making sure we continue to put on world-class events."•
Check out more CFO honorees..
Please enable JavaScript to view this content.